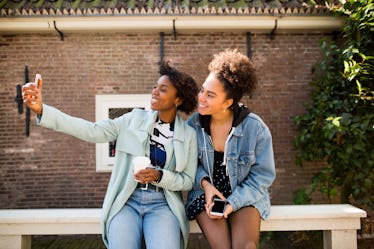 People Who Have Little Sisters Know These 6 Things All Too Well
Little sisters are truly something else. When they're born, your whole life instantly changes. Suddenly, you go from having your own bedroom to a shared one with your new sis, and from mom and dad's only child to one of two. As you grow up, you're paired together in everything, and since you're the older one in the pack, it's on you to be your little sister's role model and give her solid advice. You do your best to help her through everything, because you've already been there, done that. Having a little sister can be a lot of work — but it's also one of the greatest gifts and best friendships you'll ever have in your life.
My sister and I are only about two years apart, but, like any sisters will tell you, two years can be a big difference. There were years when I felt like we'd never be friends. But thankfully, there have been many more when I knew I couldn't live without her. As much as we butt heads and tease each other, there's an understanding, love, and protective nature that I have for my little sister that I'm sure I'll never really have for anyone else. If you have a little sister, you've been through all six of these things time and time again.