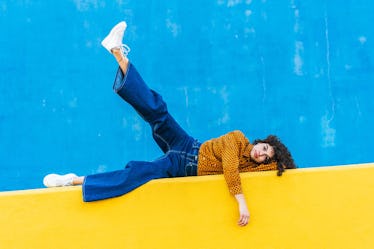 7 People Reveal How They Handled Asking Someone Out & Getting Rejected
Asking a crush out can be one of the most heart-fluttering, faint-inducing experiences in the world. On the other hand, getting rejected can make you feel like you will never be able to put yourself out there again. But fret not: Hearing stories from other folks who have asked someone out and were rejected can help to soothe your ego. There are so many reasons you should channel Dory from Finding Nemo and just keeping swimming — because there are so many other fish in the sea. Dad jokes aside, it's totally OK to feel the whole range of emotions that rejection can elicit.
It can be easy to metabolize being rejected as something that reflects your worth as a person, or to feel isolated, because it's an inherently solo experience. But remember that someone could be turning you down for a million different reasons that have nothing to do with you! They could be taken, uninterested in dating at the moment or processing something that make them emotionally unavailable. Alternatively, if their reason for turning you down is because they aren't interested in you — that's OK, too. Rejection doesn't reduce your worth as a person. You are undoubtedly honest and brave in putting yourself out there.
Here's how to handle asking someone out and getting rejected, according to seven people.