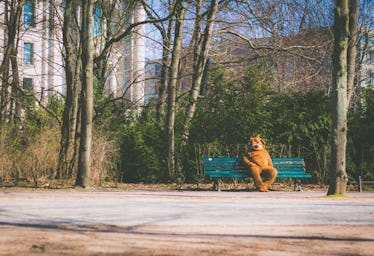 6 Reasons Why A Pun Halloween Costume Is The Best Option There Is, Ghoulfriend
If you're still not ready for Halloween, don't panic. You've got this. There are still a lot of great Halloween costume options out there, and, actually, the best Halloween costume is one that takes very little time to put together. We all know what I'm talking about — the punny Halloween costume. If you have a pun Halloween costume idea set to go, let's be honest: You'll be the real MVP at any party this year.
Whether you love it or love to hate it, you have to admit the punny Halloween costume deserves some credit. It's a costume that may be a bit cheesy and super corny, but it's also kind of, sort of, freaking epic. Too often we tend to write off the joke costume, but we may have had it wrong this entire time.
So, if you're down to the last minute and you're scratching your head trying to come up with a costume that's easy and awesome, this just might be your lucky day — aka the perfect chance to break out your very own punny Halloween costume. Not entirely convinced just yet? Here are six reasons why the punny Halloween costume is the best costume to bless your crew with this Halloween.