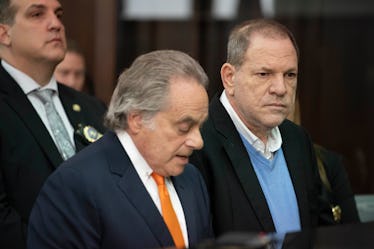 Harvey Weinstein Has Been Indicted On Charges Of Rape, After Waves Of Allegations
Pool/Getty Images News/Getty Images
Since the #MeToo movement began, more and more cases of reported sexual misconduct and abuse have come to light. We've even seen that some heavyweights can be brought to justice, like when Bill Cosby was found guilty of sexual assault on April 26. Now, the media mogul whose alleged sexual misconduct has become inextricably linked with the #MeToo movement is seeing his day in court. On May 30, Harvey Weinstein was indicted on charges of rape and "criminal sexual act," CBS News reported.
The indictment formally charged Weinstein with two counts of rape, first and third degree, and a first-degree count of "criminal sexual act," also according to CBS News. Weinstein is accused of forcing a woman to perform oral sex on him in his New York office in 2004 and of raping an unnamed woman at a hotel in 2013. Following a closed-door meeting with prosecutors and a judge on May 29, Brafman reportedly said that the unidentified woman was in a 10-year long consensual relationship with Weinstein that continued after the alleged attack, per USA Today.
In a statement shared with Elite Daily, Weinstein's lawyer, Ben Brafman, said the indictment was not a surprise and said that they would soon be moving to dismiss the charges. He said:
The announcement of Mr. Weinstein's indictment does not come as a surprise. ... We remind everyone that an indictment is merely a formal accusation. Mr Weinstein intends to enter a plea of Not Guilty and vigorously defend against these unsupported allegations that he strongly denies. We will soon formally move to dismiss the indictment and if this case actually proceeds to trial, we expect Mr. Weinstein to be acquitted.
In a statement, Manhattan District Attorney Cy Vance said the indictment brings Weinstein a little closer to being held accountable for the alleged assaults.
He said:
This indictment brings the defendant another step closer to accountability for the crimes of violence with which he is now charged. Our office will try this case not in the press, but in the courtroom where it belongs. The defendant's recent assault on the integrity of the survivors and the legal process is predictable. We are confident that when the jury hears the evidence, it will reject these attacks out of hand.
Weinstein has been the subject of a wave of accusations of sexual misconduct in the past year. In October 2017, a New York Times story detailed decades' worth of alleged misconduct by the producer, including allegations from stars such as Ashley Judd and Rose McGowan. In the months that followed, numerous other women came forward to accuse Weinstein of misconduct, ranging from harassment to rape. Among his accusers were A-list celebrities such as Gwyneth Paltrow, Angelina Jolie, Lupita Nyong'o, Cara Delevingne, and more. According to CBS News, more than 80 women have come forward to accuse the mogul. Throughout the process, Weinstein has consistently denied any non-consensual sex, and said that of the women on record he believed that "all of these relationships were consensual."
Earlier on May 30, Brafman announced Weinstein would decline to testify before the grand jury prior to the indictment, per CBS News. Brafman reportedly cited a lack of time to prepare for the testimony and "political pressure" that he said made an indictment nearly unavoidable. According to USA Today, Brafman issued a statement saying that Weinstein was told what the charges were and who the accusers were on Friday, May 25 and given until 2 p.m. ET on May 30 to appear before the grand jury. In his statement provided to Elite Daily, Brafman said the legal team had asked the district attorney for more time to prepare, but the request had been denied.
If convicted, Weinstein could face up to 25 years in prison, per Variety. But, for now, he's confined to New York and Connecticut and is out on $1 million bail.