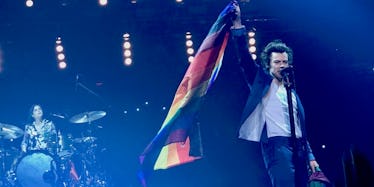 I Couldn't Go To A Pride Parade This Year, So I Went To A Harry Styles Concert Instead
Photo by Elana Rubin
When I found out that one of my oldest friends had her bridal shower on the same day as New York City's Pride Parade, there was no question I'd be going to her shower. I can go to Pride every year, but for this lifelong friend, her wedding events only happen once. Luckily, I bought tickets to Harry Styles' show at Madison Square Garden a year in advance, so I already had a way to celebrate Pride if not at the parade. If you didn't know already, Harry Styles is a queer icon. Per words from Styles' mouth himself, he fiercely creates a space at his concerts for members of LGBTQ+ community to feel loved. So while I was sad I couldn't be part of the celebrations at my city's parade this year, I knew attending a Styles concert would be a celebration of my queerness all on its own.
Styles make sure every moment of his show is one of love, kindness, and belonging for all of his fans. Styles' merchandise reads "Treat people with kindness," which is basically his mission statement. During Pride Month this year, Styles announced that he'd create a special Pride-themed t-shirt with that phrase, with sales going to GLSEN, a charity for LGBTQ+ students. And if anyone would think this shirt was just rainbow-themed for fun? It's literally called the Treat People With Kindness Pride Tee on his merchandise website.
On the tour, his opening act Kacey Musgraves sings one of her songs, "Follow Your Arrow," which says in the chorus, "Kiss lots of boys / Or kiss lots of girls / If that's something you're into," and later in the song, "Say what you feel / Love who you love." Musgraves, a country artist, follows Styles' suit by making fans know they're welcome to the country genre, one that hasn't always been a safe space for queer listeners and fans.
Styles' setlist includes songs from his 2017 eponymous debut album, One Direction, Fleetwood Mac, a song he wrote for Ariana Grande, and two unreleased Styles originals, "Anna" and "Medicine." In the latter, Styles sings, "I mess around with him and I'm OK with it." While he sings the One Direction hit song "What Makes You Beautiful," Styles cloaks himself in pride, bisexual, and trans flags. Styles moves to the B-stage during the show to sing gender-neutral songs "Sweet Creature" and "If I Could Fly." He sings both songs with just him and a guitar to an unidentified "you," presumably the same one since he groups these two songs together. At his second Madison Square Garden show on June 22, Styles and Musgraves joined the stage together to cover Shania Twain's "You're Still the One." Musgraves wore her own version of the pride flag on her dress.
How powerful is it, to not only have your pop idol affirm your queer identity, but wrap himself in the very symbol of it? To sing, "Being the way that you are is enough" in "What Makes You Beautiful," a song about not knowing your beauty and Styles then validates it to the world? To support every single queer person in a room full of tens of thousands of people every night, screaming his love and gratitude for your existence?
For queer fans, this support is invaluable.
In a world where 92 percent of queer youth hear something negative about the LGBTQ+ community at school, online, or from their peers, and 68 percent hear negative messages about being queer from political leaders, according to a report from the Human Rights Campaign, having a pop star scream his love for you can be of utmost comfort. Styles' reach – he has approximately 24 million Instagram followers and almost 33 million Twitter followers – surely extends to some queer fans of his who don't have that kind of support and love from their personal circle at home.
Styles doesn't just aggressively show his love for the queer community at his concerts by waving Pride flags and singing about being OK with hooking up with men – he also interacts with queer fans for full arenas to hear. Styles further validates his queer fans by speaking with them, something most fans would love the chance to do, which he surely knows.
At his show in Philadelphia on June 15, Styles served as a matchmaker for a lesbian fan who had a sign saying she was looking for a girlfriend. In Sunrise, Florida on June 9, Styles asked a fan if he had straight vodka, then said, "I mean 'straight vodka,' not 'are you straight,'" after the fan said "No, gay." Styles then joked, summarizing the interaction between him and the fan, "'It's vodka!' 'Straight?' 'No gay!'" Styles additionally shows his comfort with his own sexuality at his shows, flirting with men in the audience.
His support goes beyond the walls in the arenas he plays, too. Styles posted a Pride flag on his Instagram account the day gay marriage was legalized in the United States in 2015, another flag the day the Pulse shooting in Orlando happened a year later, and posts photos of fans with pride flags, as well as himself, on the account as well.
Styles told British GQ in 2013 that he's "pretty sure" he's not bisexual, and the star later told The Sun in 2017 that his sexuality is something he has "never felt the need to" label.
To those who think Styles may be pandering to a queer audience for a sales strategy, I urge you to reconsider that stance. In a time where anti-gay ideologies still very much exist, some would say the safest business move would be for Styles to zip his lips about his progressive beliefs. There's another pop star who's been incredibly vocal about her brand of feminism to sell an image, only to be remarkably silent on her politics when it actually matters for the women she supposedly stands for. That star might remain politically neutral in order to appeal to as many fans as possible. Wrapping himself in a "Make American Gay Again" pride flag during a song about being beautiful leaves no room for question: Styles is unapologetically standing with queer people, and he does not want anyone to think otherwise.
For this pansexual fan who has watched Styles grow from the unsure 16-year-old on the bottom of the stairs on X Factor to selling out a headlining solo tour, I feel continuously blessed to wear my own rainbow paraphernalia alongside him. I've grown from high school, to college, to now post-grad listening to One Direction and the members' solo careers, with their music playing as I'm on my own path to self-discovery and self-love. In the words of Harry Styles at his concerts in June, "Happy Pride."
Check out the entire Gen Why series and other videos on Facebook and the Bustle app across Apple TV, Roku, and Amazon Fire TV.
Check out the "Best of Elite Daily" stream in the Bustle App for more stories just like this!