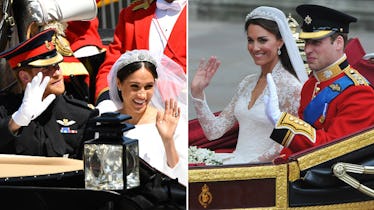 Harry & Meghan's Carriage Procession Vs. William & Kate's Shows The Couples Have Similar Taste
No matter how much I tell myself I won't do it, I always cry at weddings — even at ones I'm not invited to, and even at ones where, technically, I don't actually know any of the people involved. Yes, I am crying over Meghan Markle and Prince Harry's wedding, but like, I shed a few tears for Kate Middleton and Prince William's nuptials, too, so it's fine, guys. The one part of both of these royal weddings that's really gotten my waterworks going, though, is William and Kate's carriage procession and Meghan and Harry's. I'm not quite sure I'm able to explain why this part of the event gets me so choked up, but I think it's because it's one of the few details of a royal wedding that actually does seem like it's straight out of a fairytale, at least to me.
There's just something really romantic about riding around in a carriage in any context, and obviously, it has to be even more sentimental to share that special experience with the person you love the most. As random a reference as this is going to be, I think my infatuation with carriages first began when I saw the movie Jersey Girl (yes, of course I loved this admittedly-mediocre film, because I, too, am a Jersey girl at heart), and Ben Affleck's character, Ollie Trinké, took his daughter Gertie (played by Raquel Castro) on a carriage ride to show her around New York City. It's just really freaking cute, OK? Please stop judging me.
So yes, I'm definitely having all of those same, starry-eyed feels while watching Meghan Markle and Prince Harry make their way through their carriage procession.
Meghan Markle and Prince Harry's procession was about 25 minutes long altogether, as the carriage made its way through the town of Windsor following the royal wedding ceremony. For comparison, Kate Middleton and Prince William's carriage procession only lasted about 15 minutes back in 2011 when they said their "I dos."
Another key difference between the two royal weddings' carriage processions is the path each one followed. While Middleton and William's carriage took them from Westminster Abbey, where their nuptials were held, over to Buckingham Palace, where they shared their infamous balcony kiss, Markle and Harry's carriage left St. George's Chapel, briefly mde its way around Windsor, and then headed back over to Windsor Castle (which is where St. George's Chapel is located). Kensington Palace tweeted a statement about the royal wedding carriage procession back in February:
At 1pm the couple, now married, will undertake a Carriage Procession from St George's Chapel through Windsor Town returning to Windsor Castle along the Long Walk.
They hope this short journey will provide an opportunity for more people to come together around Windsor and to enjoy the atmosphere of this special day.
Also, fun fact: Apparently royal carriages have names! According to another tweet from Kensington Palace that was posted earlier this month, Meghan Markle and Prince Harry chose to use the Ascot Landau for their royal wedding carriage, which just so happens to be the same one Kate Middleton and Prince William used in their own nuptials, The Daily Express reports. Aw, twinsies!
Per a Kensington Palace press release, the Crown Equerry Colonel, Toby Browne, described the Ascot Landau as a "wonderfully bright, small, lovely carriage" that's "very easy for people to see," as "passengers can sit up quite high," providing maximum visibility for those attending and watching the royal wedding — which is actually kind of the whole point of the royal wedding carriage procession in the first place, according to The Telegraph. The carriage's journey is meant to allow the public an intimate glimpse into the royals' special day, and the outlet explains this "ceremonial prowess" has been done for centuries, both for celebration, but also "to impress their subjects and foreign powers."
In other words, royals are a little extra when it comes to their wedding celebrations. But I'm totally OK with it, and no, it doesn't mean I'll be crying any less today.