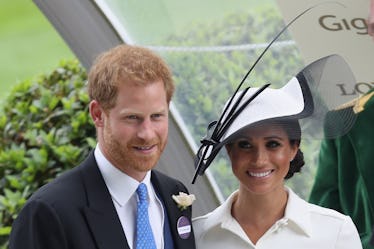 Harry & Meghan's Body Language At Royal Ascot Day Reveals A Lot About Their New Marriage
Chris Jackson/Getty Images Entertainment/Getty Images
Happy Royal Ascot Day, friends! "What's 'Royal Ascot Day?'" you ask. Well, first, it's very British. Second, don't worry, I'm right there with you — I've never felt more like an American plebe than today, when I learned what the events at the Ascot Racecourse in Ascot, United Kingdom are called. On Royal Ascot Day, the royal family watches horse races at the track from the Royal Enclosure. Tuesday, June 19 also happens to be the one-month anniversary of the Duke and Duchess of Sussex's little old wedding. Prince Harry and Meghan Markle's body language at Royal Ascot Day suggests that things are going pretty well, at least according to body language experts.
After having lunch with Queen Elizabeth, Harry and Meghan arrived at the track in a carriage with Prince Edward and Sophie, the Countess of Wessex. Also in attendance were Prince Charles and Duchess Camilla, and of course, many other fancy-hat-adorned British people. (Um, can I be royal, too?)
Meghan has had quite her share of royal appearances in her first month of marriage, but this is her Royal Ascot debut. I spoke to body language expert Lisa Mitchell of Power Body Language to get her take on how Harry and Meghan seem to be feeling on this fine Tuesday. Remember, body language is just one part of the equation that makes up a couples' relationship, but here is what Mitchell gathered from photos of the adorable couple at the race course.