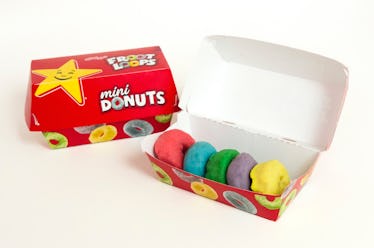 These Nostalgic Donuts At Hardee's & Carl's Jr. Feature Your Favorite '90s Cereal
Carl's Jr. Hardee's
It's scientifically proven that giving '90s kids some nostalgic Saturday morning cartoons and a sugary breakfast item will halt all efforts to be productive for an entire day. It's true: just give me a few episodes of Doug and a hefty bowl of Froot Loops, and I probably won't move for, like... three and a half hours straight. If you, too, are missing lazy, comfy days like these, you should probably try Hardee's and Carl's Jr.'s new Froot Loop Mini Donuts. It'll definitely make you want to kick back with a few episodes of Recess, followed He-Man, and, of course, every single episode of DuckTales. I can guarantee it'll make for a really, really fantastic Saturday morning.
On Wednesday, Aug. 29, millennials can rejoice for the most glorious mashup of 2018. In case you haven't already heard, Carl's Jr. and Hardee's have teamed up with Froot Loops, according to a Carl's Jr. and Hardee's. The brand has created the colorful, sweet innovation, known as Froot Loops Mini Donuts. Back in my day, us kids had to buy boxes of mini doughnuts and sugary cereal separately. Thankfully, the two greatest morning foods have officially been combined, and they're going to be available exclusively at Carl's Jr. and Hardee's restaurants nationwide. Let us take a moment, and praise the Saturday morning gods for these yellow, purple, green, blue, and red creations.
Sadly, these gourmet gifts from above won't be around forever like Papa Smurf or Miss Frizzle. According to a the brand, these colorful mini donuts will only be around for a limited time at participating Carl's Jr. and Hardee's locations. Check to make sure your local restaurant is selling them before you go, in order to avoid major disappointment. On the bright side, however, they'll only cost you a mere $1.99 if you get your hands on them. Plus, they come bundled in a chic portable pack, which is perfect for any and all of your cartoon-watching needs.
If you're looking for an outfit to match your breakfast, make sure to catch AWAYTOMARS x Froot Loops fashion collaboration. Recently, Froot Loops partnered up with British fashion brand, AWAYTOMARS, to create a community-based fashion collection, featuring the iconic Froot Loop colors. AWAYTOMARS is hyper-focused on developing designs submitted by a community of creative minds, and after anyone submits a design, AWAYTOMARS will add any necessary finishing touches. Then, they manufacture the finished product, while supporting the original designers. The Froot Loops collaboration combined over 700 artists' contributions in order to create the "Whatever Froots Your Loops" collection. It's super colorful, and hella nostalgic, if that's your vibe.
If a sugary breakfast and some quality TV are all you need for an enjoyable weekend, Carl's Jr. and Hardee's have the goods. These tasty creations are available as of Wednesday, Aug. 29, so get your butt to one of the participating locations ASAP. Seriously, you'll want to taste these before they're all gone. They'll totally revolutionize any and all cartoon-watching sessions, and I can guarantee they'll be the perfectly nostalgic fuel for your next Kim Possible or Chip 'N Dale Rescue Rangers marathons.