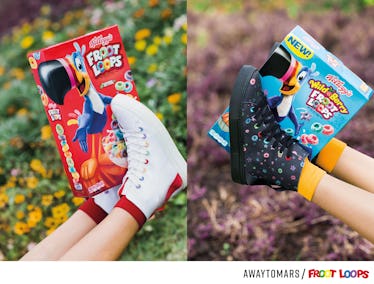 Froot Loops Now Makes Sneakers & My Life Is Officially Complete
Courtesy of AWAYTOMARS x Froot Loops
Usually, when I think of wearing my breakfast, it's because I've spilled food on myself, but not this time. The AWAYTOMARS x Froot Loops fashion collab will let you rock your favorite breakfast cereal (well, kind of), sans mess. This exciting collection features the iconic Froot Loop colors, and here's how you can get your hands on it.
Froot Loops partnered with London brand AWAYTOMARS for this community-based collection. AWAYTOMARS is a brand centered around developing designs submitted by a community of creative minds. Anyone can submit design ideas, AWAYTOMARS adds some finishing touches if necessary, and manufactures the finished products, all while supporting the original designers. For the Froot Loops collaboration, over 700 people contributed to the final designs, and thus, the "Whatever Froots Your Loops" collection was born.
The guidelines for the collection were based on Froot Loop's iconic colors: green, blue, orange, yellow, purple and red for the original cereal, orange, pink, red, black, and light and dark blue for Toucan Sam, and red, green and blue loops and purple stars for Froot Loops Wild Berry cereal. Original submissions included hats, jackets, shirts, dresses, and shoes, and the brands selected the top two designs from each category to produce. See the top picks below!
A pair of track pants and a graphic tee show off the original Froot Loops shapes and colors.
The collaboration's ethos is "about being true to yourself and bringing joy and fulfillment to your everyday life. From staying up late to watch meteor showers to turning your spare room into an art studio, we all have different things that inspire us. So don't be afraid to show your true colors, find your inspiration and show the world 'Whatever Froots Your Loops'."
"We are designing everyday fashion that brightens up the day. It's turning a boring gray coat, into a bright, vivid fully functional technicolor dreamcoat…The Froot Loops/AWAYTOMARS collection aims to create pieces that you can wear every day and still turn heads," said the brands about the collaboration.
This kimono-style dress features the Toucan Sam color palette.
You can mix and match the pieces to pay homage to the cereal and its mascot at the same time.
I'm 100 percent down to eat a giant bowl of Froot Loops while wearing this comfy hoodie.
The sneakes are perhaps the most exciting part of the drop. The black pair of high-tops shows off the Froot Loops Wild Berry colors and shapes. And if you look closely, you can see an embroidered Toucan Sam on the inner ankle.
The white high-tops show off the original, iconic Froot Loop colors at the eyelet lace holes and have a red accent strap at the heels. Plus, there's that monochrome Toucan Sam embroidery on the inside ankle again!
The the AWAYTOMARS x Froot Loops collection should be available to shop in the next couple of days so keep checking their site! And be sure to hop on your favorite items quickly because, as with most limited-edition collections, it's sure to sell out fast!