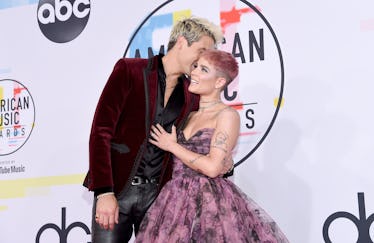 Halsey's Halloween IG Story Shows Her Seriously Enjoying Life After Her Reported Split With G-Eazy
Kevork Djansezian/Getty Images Entertainment/Getty Images
No breakups are created equal. Sometimes, you can go spiraling downward and other times you bounce back in the snap of a finger. It depends on the person, TBH. When it comes to Halsey, however, it looks like the latter might apply to her. In fact, let Halsey's Halloween 2018 Costume be all the proof you need that she seems to be doing more than fine amid her reported split from G-Eazy.
In case you haven't heard, the pair recently decided to call off their years-long relationship for the second time. They first broke up back in July and, after a brief reunion in August, called it quits again in late October. Elite Daily reached out to representatives of both G-Eazy and Halsey for comment on their reported breakup, but did not hear back by the time of publication. Though Halsey hasn't directly spoken out about their split and how she's faring in the wake of it, she let her look do all the talking for her on Oct. 26.
On Friday evening, the "Now or Never" singer was seen partying it up at a Halloween bash in her Instagram story, stunning in a Poison Ivy costume. Channeling the villainous vixen, Halsey rocked a leafy, bedazzled bikini and covered her skin in green body paint. To top off the look, she added matching green gloves, a pair of flora-embellished heels, and Ivy's iconic red locks. A slay, ladies and gentleman:
Y'all, G-Eazy might've awaken her bad side and I'm living for it. And get this: She later tweeted an explanation of the sizzling look, teasing that she "[prefers a little poison]." I. CAN'T. EVEN.
A source told People that the rapper and singer split because G-Eazy had girls all over him at his Halloween party over the weekend Oct. 19. "It's over again for now," the source said, "He was partying over the weekend and girls were all over him. He didn't care who saw."
Another insider also attributed G-Eazy's behavior to the split, telling E! News, "G-Eazy and Halsey were doing well until a couple of days ago when G-Eazy performed at the Karma International party in Los Angeles on Saturday and was flirting with several girls in public." Elite Daily reached out to Halsey and G-Eazy's teams previously for comment on this report, but did not hear back by the time of publication.
After the news of their reported breakup surfaced, Halsey posted a series of cryptic tweets about how happiness can't replace misery. She tweeted,
reminder to self: happiness is not a replacement for misery. it's an addition. pain will always be there. but that's okay. u allow happiness to join as another option. so when the time comes, it's there waiting, existing; a possibility for when you're ready to choose.
She followed up with a message directed to herself, writing:
@ me: life is not pain vs happiness. one does not replace the other. they exist together. happiness doesn't arrive as a replacement. it arrives to assist u in carrying the weight of the pain.
Clearly, happiness is also showing your ex exactly what he's missing after he makes an ill-advised decision. Keep slaying, Hals.