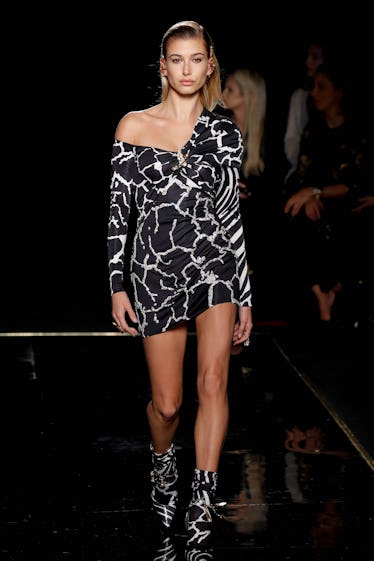 Hailey Baldwin Clapped Back At Trolls Tearing Down Her Relationship With Justin Bieber
JP Yim/Getty Images Entertainment/Getty Images
Model and TV personality Hailey Baldwin is taking to Instagram to thoughtfully silence trolls and send out a message about negative comments online. Her year has been full of public coverage about very personal life events and relationships, and Baldwin is likely no stranger to seeing negative comments about her and her life choices online. But rather than being preachy or outwardly upset, Hailey Baldwin's message to internet trolls on Instagram is about spreading positivity and decreasing hatred and division in an already divided world.
In a series of five IG stories on Saturday, Dec. 8 — using only a black background and purple text — Baldwin talked about how hard it has been to watch strangers critique and share their opinions on her life, per Cosmopolitan. She also spoke to the importance of taking Instagram breaks for mental health and how she plans to continue enjoying her life.
Baldwin really spoke some truth when she shared just how tough it is when you open up your IG account only to see "someone is tearing apart your job, your relationship, or essentially any of the things in your life that are positive." Seeing as though Baldwin recently wed Justin Bieber, it's safe to say that she's referencing some criticism stemming from that. Elite Daily reached out to Baldwin's representation for further comment on Saturday's message, but did not hear back at the time of publication.
She began with some thoughts about Instagram and mental health, in which she said
Being off of Instagram is the best thing ever. Whenever I take breaks from it I feel so much better so much happy [sic] as a person.. the second i come back on I get immediate anxiety, I get sad and I get worked up.
Baldwin then touted the positive aspects of IG, saying, "[P]lease don't get me wrong Instagram is an incredible tool and great way to stay in touch and interact with others."
"But the negativity screams so loud," she continued.
Fleshing out exactly what's wrong with the not-so-positive side of IG, Baldwin shared that she doesn't believe people should live their lives according to what other people think of them. She wrote,
It's hard to focus on your well being and mental health when each time you open Instagram someone is tearing apart your job, your relationship, or essentially any of the things in your life that are positive. I just don't believe we're called to live a life where we're so easily caught up in strangers opinions on something they have NOTHING to do with. We need to take a step back and realize we need to express more love and encouragement to one another instead of consistently tearing people down and judging.
Finally, Baldwin closed out her statement by letting the trolls know they will not win, when she shared,
And I won't let people make me feel like I'm doing something wrong by enjoying my life and being happy.
This isn't the first time Baldwin has gotten candid about her journey with self-care and mental health. Back in October, the model talked about how she's started to balance her physical health and mental health in an interview with Harper's Bazaar, saying she had taken up church, boxing, and hanging out with her family to help balance some of the stressors of daily life.
Earlier this year, Baldwin and Bieber's unexpected wedding was met with a lot of negative comments online and on Instagram. A photo Baldwin posted on Instagram after Thanksgiving featuring her kissing Bieber with the caption "very thankful" was filled with comments about the couple's relationship, many of them negative and accusing Baldwin of being "fake."
Though comments like this may keep pouring in from trolls, Baldwin has made it clear that her first priority is focusing on her happiness and not letting "strangers" take that away from her. Hopefully the recently married model's message will resonate with people across all social media platforms across the world.