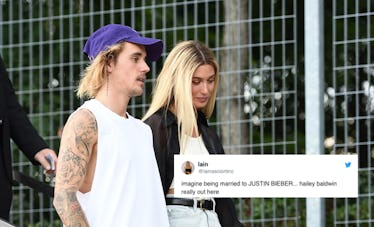 Twitter Is Emotional About Justin Bieber & Hailey Baldwin Finally Confirming Their Marriage
Theo Wargo/Getty Images Entertainment/Getty Images
If you haven't heard the good news yet, then let me be the one to tell you: Justin Bieber and Hailey Baldwin are married! After just a few months of dating and a quickie engagement, it seems these two tied the knot at a New York City courthouse, which many fans thought was an outing that the pair took to register for a marriage license. But, nope! Now the happy couple are officially Mr. and Mrs., and these tweets about Justin Bieber and Hailey Baldwin being married shows that the world is beyond excited and happy for the newlyweds.
A brief story on how we came to find out that these two really did get married: Justin Bieber posted a photo of him and Baldwin on Instagram on Thursday, Nov. 15, with a caption that read, "My wife is awesome."
I mean, if that doesn't make things crystal clear that these two are husband and wife, I don't know what will. Baldwin even commented on the photo, writing, "that's my babe." Damn right, it is!
Of course, this news comes after Bieber and Baldwin were seen at a courthouse on Thursday, Sept. 13, two months after announcing their engagement. People reported that the two did get married, and a source close to the couple told the magazine, "They went ahead and did it without listening to anyone," adding that they would have a religious ceremony for friends and family at a later time. "They're going to have a big blowout, in front of God and everyone they love."
But hours after People reported the wedding news, Hailey Baldwin took to Twitter to shut down the reports that they had gotten married. "I understand where the speculation is coming from, but I'm not married yet!" she tweeted.
Mhm.
So, now that the cat's finally out of the bag, the Twitterverse is blowing up with posts from fans of Justin and Hailey, AKA Jailey, because it's what they wanted all along.
Some fans were just plain happy for the couple:
Others have been holding out hope for Jailey to be endgame all along:
While the rest of their fans are just blown away with how awesome and perfect this match-up is:
Then, of course, there are the people who are like, "Can you even believe that Justin Bieber is a husband?":
It is kind of wild when you think about it, is it not? Because we are talking about this guy:
Seriously, this is the kid we're referencing:
Whether we belieb it or not, he's now a married man:
Deep sigh.
But look, Justin Bieber is all grown up now and seems to truly be head-over-heels for Hailey Baldwin, so let's give them nothing but love and positivity.
Here's hoping that the pair still decides to have a wedding reception, because I can only imagine just how incredible that guest list would look. And Justin, Hailey — if you're reading this, I make an excellent wedding guest. Just sayin'.