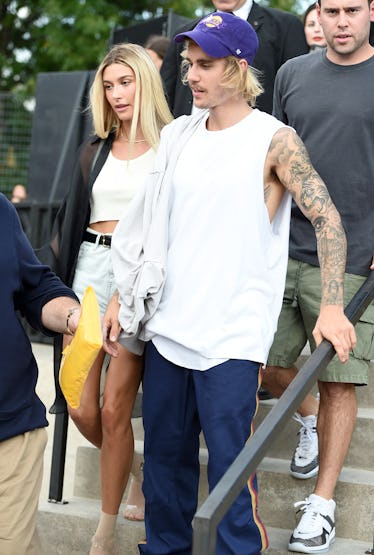 Justin Bieber Finally Confirmed He's Married To Hailey Baldwin, So It's Time To Celebrate
Theo Wargo/Getty Images Entertainment/Getty Images
You guys. You guys! The word is out, and it's officially official. We all know that there was some major speculation as to whether or not Hailey Baldwin and Justin Bieber actually got married after being spotted at a New York City courthouse. While initially, it just seemed that the pair were registering for a marriage license, many fans were on the fence as to what they should believe. Well, now we know for sure that Justin Bieber and Hailey Baldwin are married! Let's pop some champagne, people, because this is exciting AF.
So, how did we come to find out that these two truly tied the know? The only way it could be confirmed, of course, was by posting it to Instagram. Yup, Justin Bieber posted a photo of him and Baldwin, captioning it, "My wife is awesome," so that pretty much settles any last doubts about their relationship status at this point. And, Baldwin even commented on the photo, writing, "that's my babe."
UM, I THINK YOU MEAN HUSBAND, AMIRITE?
All of this comes after Bieber and Baldwin were seen at a courthouse on Thursday, Sept. 13, just two months after announcing their engagement. People reported that the two did get married, with a source close to the couple telling the magazine that "they went ahead and did it without listening to anyone," adding that they would have a religious ceremony for friends and family at a later date. "They're going to have a big blowout, in front of God and everyone they love."
But just hours after People reported the news, Hailey Baldwin took to Twitter to shut down the reports that she and Justin Bieber had gotten married. "I understand where the speculation is coming from, but I'm not married yet!" she tweeted.
Well, well, well. Look who pulled the wool over everyone's eyes.
Nice try, Hailey! We know the truth now!
To be fair, though, pretty much everything Justin Bieber and Hailey Baldwin have done has been relatively low-key, not wanting to cause too much fuss, which I love. Remember back in July, when the world found out that Bieber proposed after just months of dating his model girlfriend, and that the couple was engaged? The "Love Yourself" singer hopped on Instagram (I'm seeing a trend here), and wrote an actual novel about his bride-to-be, writing in part:
Was gonna wait a while to say anything but word travels fast, listen plain and simple Hailey I am soooo in love with everything about you! So committed to spending my life getting to know every single part of you loving you patiently and kindLY. I promise to lead our family with honor and integrity letting Jesus through his Holy Spirit guide us in everything we do and every decision we make. My heart is COMPLETELY and FULLY YOURS and I will ALWAYS put you first! You are the love of my life Hailey Baldwin and I wouldn't want to spend it with anybody else. You make me so much better and we compliment eachother so well!! Can't wait for the best season of life yet!
Congratulations to the happy couple! Let's wish these (sort of) newlyweds a lifetime of happiness.