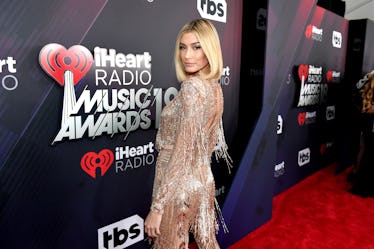 Hailey Baldwin Made A Huge Statement With Her First Look At The iHeartRadio Awards
Neilson Barnard/Getty Images Entertainment/Getty Images
When it was announced last month that Hailey Baldwin and DJ Khaled would be the hosts of the iHeartRadio Awards for 2018, fans were over the moon. Not only would these be dynamic and fun hosts, but also fashionable ones. DJ Khaled is known for his velvet jackets and long hipster-worthy beard. And Hailey Baldwin, well she's pretty much part of the coterie that makes up the 2010s answer to the 1990s supermodel craze. So what was up with Hailey Baldwin's 2018 iHeartRadio Music Awards look?
At first glance it might seem odd that a supermodel might be wearing a teeshirt and sequinned pants for an Awards show opening. After all, we're used to them showing up in the latest fashioned from the runway. but her tee-shirt wasn't any old raggy thing she grabbed out of the laundry. It was emblazoned with "Stoneman Douglas High" across the chest. This is the high school where the Parkland school shooting occurred a month ago, and the students who survived the shooting are the ones who have been challenging politicians left and right since the incident, and are the driving force behind the "March For Our Lives" demonstration on March 24, 2018. Baldwin wearing this tee-shirt was a silent shout out of support for their cause.
For those who are slightly put out that a supermodel is hosting a show that's ostensibly about music, may I first remind you this is a show that also celebrates social media and YouTube along with other forms of 21st-century communication. Baldwin definitely rules in the Twittersphere, as well as on the runway. Also, she's dating artist Shawn Mendes, which is proof that she has good taste in guys and in music.
And besides, she's an enormous fan. When it was announced she would be hosting, she told E! News:
I've always been a fan of iHeartRadio and am looking forward to a great show filled with some of the most incredible artists who I myself am a fan of too.
Fans might also tune in to make sure there's no major red carpet drama if Hailey and Selena Gomez run into each other on the way in. The singer and the supermodel have been very cool towards each other since Selena got back together with Justin Beiber, who briefly dated Baldwin during their last break up period. But in light of the press attempting to stir up drama needlessly, Gomez's people have been smoothing the waters. Supposedly, Selena is far more chill about Baldwin now and couples therapy with Justin has been one of the reasons why she's been able to make peace with it.
The therapy sessions she and Justin had after he got back in touch with Hailey really did help. Justin was super patient with her and got really deep into his feelings on it all and explained why he wanted to be cool with Hailey. That gave Selena a lot of peace because she was able to see his side. It also helped that a few of Selena's best friends have been spending time with Hailey. They've helped mend fences too.
That's good news for all sides, especially for Selena and Justin, who would like to have the focus be on the music. It's also good news for Hailey, who would like the focus to be on the show, rather than any personal feuds.
As for Hailey's current flame, Shawn Mendes, they are quite open about their relationship, which means that Baldwin will probably be openly biased towards him winning, as Mendes is also nominated multiple times throughout the evening. His biggest nomination comes in the Male Artist of the Year category, where he's up against such major names as Grammy winner Bruno Mars, as well as heartthrobs Ed Sheeran and The Weeknd, plus Charlie Puth. He's also up for Best Music Video, Best Lyrics, Best Cover Song and Best Fan Army, for his fanbase, the Mendes Army.