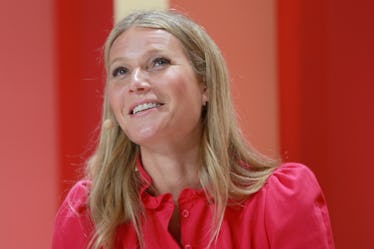 You'll So Relate To Gwyneth Paltrow's Comment On This Dirty Meme About Her
Rich Fury/Getty Images Entertainment/Getty Images
Oh Gwyn, let me just start off by acknowledging that your presence on this earth is a true gift. As an outspoken wellness mama who leaves many a jaw on the floor by promoting some of the most bizarre health trends the world has ever seen, the fact that you apparently spend a lot of your happy hour time "thinking about d*ck" is everything. I know what you're thinking: How did this penile pearl of knowledge come to light? Well, Gwyneth Paltrow's "Thinking about d*ck" meme comment confirms what some may have suspected for a long time: Sometimes, even celebs can't help but think about d*ck.
In true Gwyn fashion, pop open a jar of baby food and I'll start from the beginning. It all began when reporter Derek Blasberg posted an innocent 'gram of a fresh-faced Paltrow enjoying what appears to be a martini somewhere in the East Hamptons — complete with the v on-brand caption "Gulp, gulp, goop." At this point, it's news to no one that the internet also functions as a black hole in which things often boomerang in ways that our minds can't even begin to comprehend — and boomerang it did.
As if answering a call from the universe, the Instagram account Gay Best Friend transformed the photo into a meme, worthy of its own MoMa exhibition.
Enter Gwyneth herself into the comments section of the meme in question. And TBH, her response is so real, it actually made me wonder if I should drop what I'm doing and head on over to the nearest spa for a vaginal steam, as one does.
As if reading our minds, Paltrow simply replied with a resounding: "Ain't that the d*mn truth." And suddenly, all of our d*ck daydreams have officially been validated.
Truer words have never been meme'd yall. Sometimes you really want to be a good friend and listen to your peeps rant about their manager for the hundredth time, and then out of nowhere, *boom*. Mental d*ck flash. Anyone who's ever had their mind infiltrated by d*ck knows that this can be tough imagery to shake.
It's worth noting that this obviously isn't the first time a celebrity has publicly pondered the topic of genitals. In fact, recently, Arianna Grande couldn't help but spill the beans on Twitter that Pete Davidson has been gifted some man parts that I'm sure many a mind have now thought about. And while we're on this engrossing topic, let's not forget about the time in 2015 when Justin Bieber told Men's Health the most puzzling nugget of TMI I'm still trying to wrap my head around.
"I feel like my penis is more clean than my fingers," Bieber told Men's Health.
In conclusion: We love you Gwyneth, we're still waiting to see what will become of Grandson, and Justin Bieber — I hope you're making more of an effort to wash your hands after you go to the bathroom.
Check out the "Best of Elite Daily" stream in the Bustle App for more stories just like this!