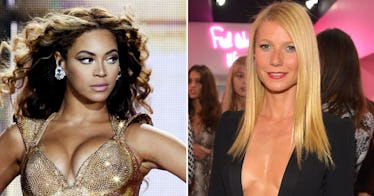 Gwyneth Paltrow Just Personally Clapped Back At Rumors She's "Becky With The Good Hair"
Kevin Winter/Getty Images; Charley Gallay/Getty Images
Raise your hand if you spent most of 2016 trying to figure out who Becky With The Good Hair was. It's OK, I did it, too. If you're NOT raising your hand, and have zero clue what I'm talking about, you're gonna wanna get in formation ASAP, so here's what you need to know. In the track "Sorry" from her album Lemonade, Beyoncé called out JAY Z for cheating on her with a mystery woman known only as "Becky With The Good Hair." The world may never know who the hell this chick actually is, but thanks to Gwyneth Paltrow's comment shutting down rumors that it's her, we at least know who it's NOT.
And if you're now wondering how Gwynnie's name even got tossed into the mix in the first place — besides the fact that, you know, she really does have good hair and is besties with Bey and JAY — well, join the freaking club! Apparently, this latest round of I-Know-Who-Becky-Is came courtesy of Amber Rose, who rolled up to the Make Speidi Famous Again podcast to share her theory with Spencer and Heidi Pratt. "I definitely think that Gwyneth Paltrow is 'Becky with the good hair,'" Rose told the former Hills stars. "I really feel like she's the one who was, like, f*cking Jay-Z."
Good question, G. Good question.
And the answer, according to Rose, has to do with the fact that the Goop guru and Queen Bey don't seem to be besties anymore. "They were like friends, and then, like, you don't see Gwyneth Paltrow with Beyonce anymore," she explained. "But like Beyoncé's still with Jay."
Um, OK. I'm gonna go out on a limb here and say you should probably slow your roll, Amber, since there could be any number of reasons these two aren't super-tight anymore, if that's even true in the first place. Like, say, the fact that Paltrow has "consciously uncoupled" from Coldplay frontman Chris Martin, who performed with Beyoncé at Super Bowl 50. Or maybe Blue Ivy is just not here for Paltrow's kids Apple and Moses anymore. Kids are just so fickle these days, you know?
Or — I know this sounds crazy, but — maybe, just maybe, they're both super busy and simply haven't found the time to get pictured at an event together? *GASP*
Whatever the reason for the lack of public appearances together, Paltrow wants everyone to know that it's NOT because she's Becky With The Good Hair. So when one of her followers asked on Instagram if it's true that she is Becky, the Iron Man star showed up in the comments to set the record straight.
"WHAT???" she wrote. "Of course not, that is ABSURD. Good lord."
You can check out the whole exchange over on the @commentsbycelebs Instagram page:
I can SO hear Paltrow saying those words BTW, can't you? Although TBH, the award for the all-time best Becky denial still goes to singer Rita Ora, who shut down rumors that she was JAY-Z's mistress back in May during an interview with The Times UK.
"Dude, if I were Becky with the good hair, wouldn't I actually have to have good hair?" she said. "Look at it. It's all weave and extensions."
Tell 'em, sis!