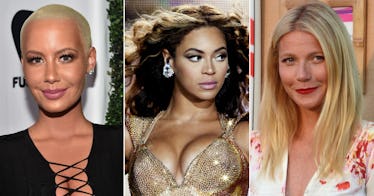 Amber Rose Just Revealed Who She Thinks 'Becky With The Good Hair' Is & I'm Shook AF
Alberto E. Rodriguez/Getty Images; Kevin Winter/Getty Images; Steven Henry/Getty Images
It's been well over two years since Beyoncé released "Sorry" and sparked one of the biggest mysteries of the decade: who is "Becky with the good hair"? Well, Amber Rose seems to have an answer and she's sticking to her guns about it. Amber Rose thinks Gwyneth Paltrow is Becky with the good hair and fans are freaking out about it.
For those of you who don't know, Bey suggested in "Sorry" that her husband JAY-Z cheated on her with a woman she identifies only as "Becky with the good hair." Here's what Bey said in the lyrics:
They sneaking out the back door / He only want me when I'm not there / He better call Becky with the good hair
Naturally, everyone's been trying to figure out who Becky could be and now that Rose has revealed a possible answer, it's throwing everybody for a loop.
Elite Daily has reached out to Beyoncé and JAY-Z's teams for comment on this story, but did not hear back by the time of publication. But, for the record, Paltrow's reps told Elite Daily that Rose's theory "is completely absurd and 100 percent false."
So, what exactly is Rose's theory about the Bey, Jay, and Paltrow situation? While giving an interview on the Make Speidi Famous Again podcast, Rose told Spencer and Heidi Pratt that, in her opinion, Paltrow fit the bill.
"I definitely think that Gwyneth Paltrow is 'Becky with the good hair,'" Rose said. "I really feel like she's the one who was, like, f*cking Jay-Z."
Rose's assumption that Paltrow is somehow involved in the situation apparently stems from the timeline of Bey and Paltrow's friendship. While the two stars were frequently seen out and about together in years past, that doesn't seem to be the case in the post-Lemonade era.
"They were like friends, and then, like, you don't see Gwyneth Paltrow with Beyonce anymore," Rose explained. "But like Beyonce's still with Jay."
I'm BEYOND skeptical about this theory, so I'm not surprised Paltrow's rep shut it down faster than you could blink.
But Becky with the good hair could literally be anyone, so the world may never know who she is or if she was even a real person to begin with. For all anyone knows, she could be an amalgamation of several people Bey has known.
Whatever the true story is, Rose has definitely opened up a can of worms for all the Bey, Jay, and Paltrow fans out there.
Aside from dishing on Bey and Jay's past marital woes, Rose also had some things to say about Taylor Swift. This time, though, Rose kept it positive and praised the singer-songwriter for her talent as well as her finesse in handling the media.
"Taylor's f—ing dope," said Rose. "This b*tch can write and sing – and the words! I'm like, 'I can relate to her.' I've been slut-shamed all over the place. Everyone's like, 'You can't keep a man. You're this and that.' All the tabloids, you know, 'Here goes Amber playing the victim again.' I'm like, 'Dude! She's my f*cking twin!'"
It sounds as though Rose has found a kindred spirit in Swift.