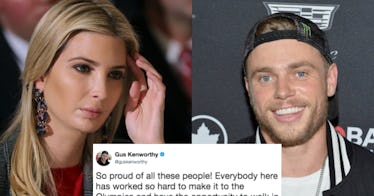 Gus Kenworthy Shaded Ivanka Trump In A Tweet & What A Way To End The Olympics
Chip Somodevilla/Getty Images News / Noam Galai/Getty Images for Global Citizen / Getty Images / Twitter
All the athletes at the PyeongChang 2018 Winter Olympics worked really hard to make their way to the games. They trained and they pushed all for the glory of being at the Olympics and the chance to take home a medal. The Olympic closing ceremony takes the time to honor these competitors by allowing them to proudly walk together during the ceremony. But marching along with the parade of athletes are the delegation leaders, and for the U.S., that included the first daughter — Ivanka Trump. But one Team USA skier was not having it. Gus Kenworthy's tweet about Ivanka Trump is so shady, and I'm living for it.
Trump, despite not making it to most of the Olympic Games events, was chosen to lead the U.S. delegation to South Korea for the closing ceremony on Sunday, Feb. 25. As part of Trump's "duties" she also walked with Team USA during the closing ceremony, where all the teams walk together "en masse." They don't walk in any particular order, so as to show "a symbolic coming together," according to the Olympics official website.
As Team USA was gearing up among the crowd of competitors for the parade of athletes, Kenworthy took a moment to tweet how proud he was of all the athletes and how hard they worked to get to the Olympics. Then he turned and threw some major shade at Trump. "So proud of all these people! Everybody here has worked so hard to make it to the Olympics and have the opportunity to walk in the closing ceremony! Well... everyone except Ivanka," Kenworthy wrote. He did not hold back in saying that the first daughter did not belong there and should not be able to walk with Team USA. Kenworthy continued, "Honestly, tf is she doing here?"
Shaaaaade.
From the start, Kenworthy made it very clear that the current White House does not represent his views.
Kenworthy made history in PyeongChang as the first openly gay skier for Team USA. Even before the Winter Games began, Kenworthy made his opinion on President Donald Trump and the current administration very clear. In an interview with Reuters on Jan. 14, he made it clear that he would not visit the White House if he were invited by President Trump after the games. He said,
I am very proud to represent the U.S. but I don't stand by Trump and his cabinet and their policies. I do not want to feign approval for policies that are in place and things that are being pushed at the moment, by going. If I was invited I would decline my spot.
During the games, Kenworthy broke his thumb and immediately posted to Twitter breaking the news of his injury to his fans but also assuring them that he would compete regardless. Kenworthy also joked, "It won't stop me from competing but it does prevent me from shaking [Mike] Pence's hand so... silver linings!" Referring to the fact that Vice President Pence led the U.S. delegation during the PyeongChang 2018 opening ceremony. Two tweets. Two ceremonies. Two burns. Kenworthy has A LOT of shade to sling.
Though upset by Trump's appearance and both delegation leaders at the Winter Olympics, Kenworthy proudly marched with his team. At one point, Kenworthy was even spotted holding fellow Team USA member, figure skater Adam Rippon, on his shoulders. Rippon is another openly-gay athlete who has made comments about President Trump and Pence during this Olympic season.
Some Olympians might not feel particularly warm to the Trumps. But some people on Twitter felt that Kenworthy's tweet was not necessary.
While some others were on his side.
The Olympics is the one event where countries put aside their differences (even if just on the surface) to take part in this important global event. Maybe this year we all had a lot more tension to deal with on our home turf, but no matter what side of the road you fall on, our country's athletes are all our own and we should be very very proud of them.