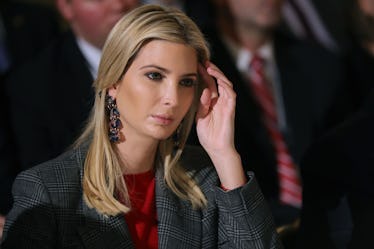 Ivanka Trump Was At The Olympics Closing Ceremony In Full America Gear
Chip Somodevilla/Getty Images News/Getty Images
The PyeongChang 2018 Winter Olympics are coming to a close on Sunday, Feb. 25. Athletes will have to pack up and go home, some with medals around their neck ready to celebrate and others empty-handed ready to do some sulking with pizza before getting back to training. While everyone was preparing to say goodbye to South Korea, Ivanka Trump made her debut, and here are some photos of Ivanka Trump at the Olympics closing ceremony.
Trump has not been to the Winter Games at all, but she did head out for South Korea Thursday, Feb. 22 in order to lead the U.S. delegation at the closing ceremony of PyeongChang 2018, at the behest of her father, President Donald Trump. In a statement given to CNN, Trump expressed her excitement about being chosen to represent the U.S. at the closing ceremony. She said,
I am honored to lead the US delegation to the closing ceremonies of the PyeongChang 2018 Winter Olympics. We look forward to congratulating Team USA and celebrating all that our athletes have achieved. Their talent, drive, grit and spirit embodies American excellence, and inspire us all."
You can see pictures of her at the closing ceremony here, in which she appears to be wearing the official Ralph Lauren Team USA gear.
A administration official told CNN that Ivanka Trump was the president's choice because he wanted to show support for Team USA by sending high-level delegations to the Winter Games. The official told CNN,
The president had made it clear that he wanted high-level delegations to go to the Winter Olympics to help cheer on the American athletes, show support for the US Olympic team and highlight the strength and support of our relationship with South Korea.
According to CNN, Ivanka Trump flew into Seoul and had dinner with President Moon Jae-in of South Korea at his home on Friday, Feb. 23. Then, she got to catch a little of the Winter Olympics action on Saturday and Sunday before the whole shebang came to a close Sunday.
Also travelling with Trump is White House Press Secretary Sarah Huckabee Sanders. When asked if the U.S. delegation would make it a point to meet with North Korea while at the Olympics, an official said that there are no plans for that, per Reuters. Officials have made it clear that the first daughter is only there to cheer on Team USA and reaffirm America's alliance with South Korea. As an avid skier herself, it's a good place for her to be.
Vice President Mike Pence led the U.S. delegation at the PyeongChang opening ceremony on Feb. 9. According to Reuters, he was supposed to meet with Kim Jong-un's sister, Kim Yo-jung, and other North Korean official in South Korea, but they canceled on the vice president at the last minute.
Ivanka Trump, who aside from being the first daughter also serves as the senior adviser to the president, actually worked with the International Olympic Committee (IOC) and the city of Los Angeles to bring the 2028 Summer Olympics to the California city, which is the first time the Olympics are being hosted in the U.S. since 1996. So I guess it is only fair that she gets to see some Olympic action.
If I were a Trump and a "winter sports enthusiast" as one official put it, then I would probably be at all of the games cheering on Team USA as they go for gold. Especially if my father, the President of the United States, couldn't make a game or even send out a single tweet in support of our athletes trying to win it for the home team. It seems like a pretty sweet trade-off.