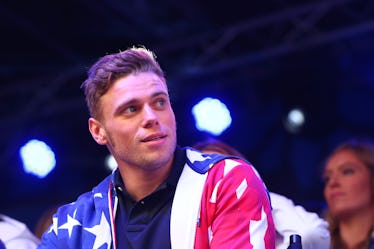 Gus Kenworthy's Net Worth Will Have You Learning To Ski Immediately
Mike Stobe/Getty Images Sport/Getty Images
If you don't know who Gus Kenworthy is, you should definitely educate yourself on this Olympian. The skier has made a name for himself as an extreme sport athlete, a voice for the LGBTQ community, and a great follow on social media. He has a wide range of endorsement deals, has appeared on MTV's The Challenge, and continues to win competitions all over the place. At just 26 years old, the athlete has made quite a living for himself. How good of a living? Gus Kenworthy's net worth will have you wishing you spent more time hitting the slopes instead of drinking mimosas.
Although not confirmed, it's safe to say Kenworthy's net worth sits somewhere above $500 thousand. His success even landed him on Forbes' list of 30 under 30 athletes. According to the site, Kenworthy has some big sponsors including, "Visa, Monster Energy Drink, Samsung, Deloitte, 24 Hour Fitness, and Atomic." Of those sponsorships and more that weren't mentioned, Kenworthy rakes in about 80 percent of the $500 thousand to $1 million he earns from those companies every year.
If you're wondering why you didn't start freeskiing at the age of three like Kenworthy — the answer is because it's really hard.
According to Kenworthy during an interview with ESPN, it's not so much about endurance or strength, but technique. He said,
I don't think you necessarily have to be crazy fit for freeskiing. So much of the sport has to do with agility and nimbleness and flexibility and other things. It's a lot of muscle memory -- it's more like dance, in a way -- it's technique more than strength or endurance. There are so many different body types in our sport, and I wouldn't say one is ideal over another. There's skinny guys, there's overweight guys, there's really fit guys.
Just like dancing — if dancing took place at high speeds while flying in the air. Kenworthy is an amazing athlete, but he also gives a powerful voice to the LGBTQ community.
Kenworthy came out to ESPN in 2015 and was the first openly gay athlete from the extreme sports community. While he set himself up for "worst case scenario," the athlete actually received an outpouring of support. He recounted during a press conference in 2017 that it felt like a ton of weight had come off his shoulders. He said,
The morning the article came out I remember my fingers trembling to post what I had written and post the link to the article saying that I was gay. I was so scared, and then it was like instant relief; all this weight off my shoulders. I was crying as soon as I posted it.
With the public backing Kenworthy, the sponsorships followed. He was once fearful of losing sponsors for the 2018 Olympics, but the athlete is rolling in endorsement deals. He told Business Journal,
I think I'm more marketable now as an out athlete. Every brand is looking for diversity, and it's an important thing for brands to have diversity, more so than it's ever been.
However, he mentioned that he works with sponsors to find the right balance in his campaigns.
When it comes to PyeongChang, Kenworthy has a few tricks up his sleeve. This Olympic season, he is hoping to win a medal in the halfpipe. Since the U-shaped ramp was only introduced in the 2014 Sochi Olympics, winning a medal would make Kenworthy the "first athlete to win medals in both the slopestyle and halfpipe," according to Cosmopolitan.
Although Gus Kenworthy is so much more than an athlete, I cannot wait to watch him completely rock the Olympic Games this year in PyeongChang. Show them how it's done, Gus.
To learn more, visit teamusa.org. The Winter Olympics will air live starting February 8.
Check out the entire Gen Why series and other videos on Facebook and the Bustle app across Apple TV, Roku, and Amazon Fire TV.