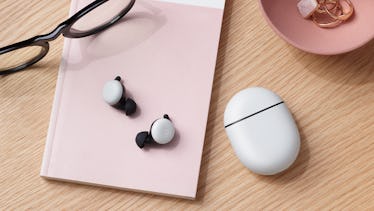 Google's New Colorful Pixel Buds Might Have You Rethinking Your AirPods
It's become super common to see people walking around with wireless headphones. The ones I tend to see the most are Apple AirPods, but just because some people opt for Apple AirPods doesn't mean you don't have other options. In fact, since the March 20 release of the newest AirPods, there have been other competitor buds. But, the ones I think may really compare are the new Google Pixel Buds 2. So, I've laid out the Google Pixel Buds 2 versus Apple AirPods to help you consider what matters most to you when buying headphones.
After Apple's March 20 official announcement of the new AirPods, the market has seen the release of the Powerbeats Pro earphones, Samsung Galaxy Buds, and Sony WF-1000XM3 wireless headphones. Most recently, the second generation of Google Pixel Buds were announced at the Google Pixel 4 Event on Oct. 15. Whatever you're looking for, there is definitely going to be a pair of wireless buds for you.
To help look at how the headphones compare to one another, I thought I'd take a look at the newest wireless headphones coming to the market in 2020 versus one of the most popular wireless headphones. So, what are the main differences between the AirPods and the Google Pixel Buds 2? Let's take a look at how these two innovative types of wireless buds compare to each other.