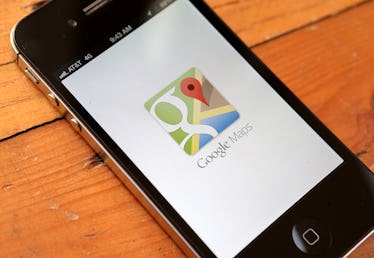 This New Google Maps Feature Finds Your Perfect Restaurant, & Now I'm Hungry
Justin Sullivan/Getty Images News/Getty Images
There's nothing worse than being hungry, knowing you want to go out for food, but yet having no idea of where to grub. No matter where you reside, new restaurants seem to be popping up left and right. With so many dining options out there, finding the perfect spot can be overwhelming (and make you hangry). Not anymore, thanks to a new feature now available on Apple devices. Google Maps iOS "Match" feature will help you find your next meal, and I'm already hungry.
Google Maps' "Match" function is here to make mealtime easier for you. The helpful decision-making function launched in May for Android users, and now the delicious feature has finally made its way to iOS devices. Now, when Apple users open up their Google Maps app, they will be greeted by endless restaurant suggestions complete with rankings tailored to their taste buds.
When you are searching the map platform for a tasty suggestion, click on a restaurant that looks appetizing. At the top of the restaurant's profile, there will be a number, according to Google. This number represents how likely you are to enjoy eating at the restaurant. While you can take the time to sift through online reviews, let Google Maps' "Match" feature pair you with your next meal. Google Maps is taking the hard work out of deciding where to eat (because indecisiveness over food, especially in a group of friends, is too real). Do you frequently go for Asian food or tacos? Then you can expect to see several highly-rated Asian eateries and taco joints pop-up for your recommended restaurants.
How does Google Maps know what you like? The "Match" feature is similar to Netflix's recommended TV show and movie suggestions, which pulls from your previous watch history. In order to calculate your personalized suggestions, Google Maps takes the following four factors into consideration, according to Google:
What Google Maps knows about a business.
Your previous food and drink preferences in Google Maps.
Places you've been to.
Whether you've rated a restaurant or saved it to a list.
I have been on one too many group texts with friends (love you guys) where we go back and forth for a good 45 minutes about where to meet for dinner. Nobody wants to make the final call, but it's now easier than ever with the addition Google Maps' "Match" feature for iOS devices. If you don't notice the "Match" feature on your Apple product, check to make sure your Google Maps app is up-to-date by visiting the App Store. Remember, this is different than the maps app that comes preloaded to your iOS devices, so make sure you've downloaded Google Maps.
Once you've updated Google Maps, you should be able to go into the app and play around with the new "Match" feature. (A tip from me to you: Turn on automatic app updates in your device's settings folder. This way you don't miss a beat when the next new feature is released.)
As an iPhone user, I'm excited that Google Maps' "Match" feature is finally here to make all of my dinnertime dreams come true. I'm that person who seesaws between restaurants because I don't want to pick the wrong one. Now, I can forgo the time-consuming comparisons and searches for my next meal. Google Maps is sure to pair me up with a meal that's best-suited for my grumbling stomach.