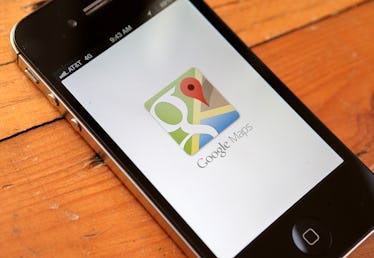 Google Maps Is Making It So Much Easier To Decide Where To Eat, So Rejoice
Justin Sullivan/Getty Images News/Getty Images
Google Maps is about to simplify how you choose your next meal. You know what I'm talking about: You are on the hunt for a new place to grub, you're but overwhelmed by all of the choices. Thirty minutes go by and you still haven't decided on a place to eat. How could you? With so many new restaurants popping up at a rapid pace, you are bound to need a little guidance here and there. That's exactly what Google Maps is doing with its "Your Match" feature that aims to pair you with restaurants you will love. It's kinda like a genie in a bottle for making food-related decisions, but sadly, there is no magic genie. Say goodbye the endless back and forth between you and your crew when it comes to Sunday brunch or an afterwork bite to eat. Here is how to use Google Maps' "Your Match" feature.
The new feature is part of a revamp to Google Maps' "Explore" tab and is expected to be rolled out sometime this summer. When you are feeling indecisive, and even when you aren't, save yourself the headache and use the Your Match function to explore and eat your way around town when. After all, aren't hunger pains enough? The map-based platform is personalizing your dinner plans by ranking food and drink locales based on your dining preferences. When you open up Google Maps and click on a restaurant, you'll see a number pop up at the top of the listing. This is Your Match, or the likelihood of how much you are going to enjoy said food or drink establishment.
According to Google, the technology takes four factors into consideration when coming up with the perfect place for you. Here is what the Silicon Valley company uses to calculate Your Match:
What Google Maps knows about a business.
Your previous food and drink preferences in Google Maps.
Places you've been to.
Whether you've rated a restaurant or saved it to a list.
Just like Netflix recommends shows based on your watch history, Google Maps uses an algorithm to match you up with your next best meal. Legit, right? It really takes the guesswork out of having to decide whether or not you are going to like a place. Now, I can't promise that you are going to enjoy every match 10 out of 10 times, but this is an overall useful feature that will make your next group chat move a little quicker.
Another addition to Google Maps is the "Group Planning" feature. This gets back to cutting out the "I don't know where do you want to go" back-and-forth that can eat up so much of our text messages. Now, you can create a "shareable shortlist" to send to your friends. This is a list of places to eat or drink, created by you, and shared directly with your contacts. Your friends will be able to vote on which place they want to dine at. Now you've got options, and that's a good thing. More importantly, you don't have more options than you know what to do with, which is also a good thing, because time is of the essence when it comes to filling your tummy up with deliciousness.
The new features will be rolled out to iOS and Android users around the world over the next several months. Since I can't say exactly when it is going to hit your app, it is best to check with your phone's app store for regular updates. Or, better yet, turn on automatic downloads for the apps on your phone so you never miss out on helpful new features like these.