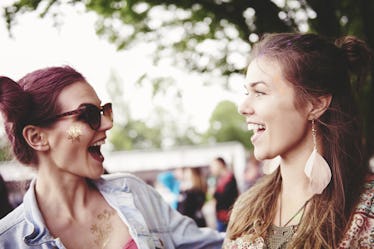 Why Your Sister Is The Best Music Festival Buddy You Could Ever Ask For
My sister is my go-to concert buddy. We have been to over 30 concerts together in our lives, and that number will just continue to grow. There's just something about finding that perfect concert companion who makes going to big music festivals so much more of a memorable experience. You want someone who is into the same music you are, down to follow a solid game plan, and someone who will totally rock out in a crowd with you. These people are truly hard to find, but that's why it's no wonder going to a music festival with your sister is the ideal situation.
She is your BFF after all, so you already do everything together. A music festival is just the next thing to check off your bucket list. If you've ever been to one, you know it's a pretty big deal, and the people you're with can either make it or break it. When you've already spent lots of money on tickets and travel, you definitely want to ensure you have an experience that will last a lifetime and memories that are stronger than any Instagram post. That's why taking your sis is your best bet for the most rockin' experience that will have you dancing the night away, and you know it's because of these nine reasons.