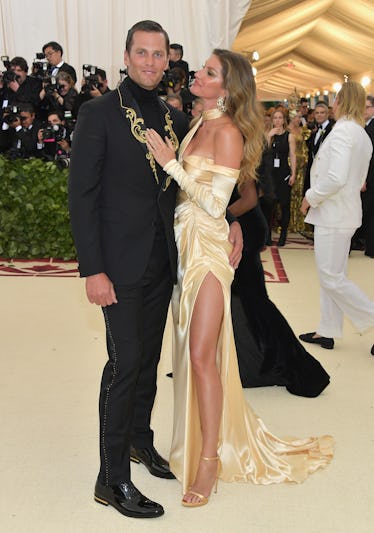 Here's How Gisele Bündchen Reacted To Tom Brady Having A Baby With His Ex
Neilson Barnard/Getty Images Entertainment/Getty Images
To the outside world, Victoria's Secret model Gisele Bündchen and NFL star Tom Brady's marriage seems idyllic, but in her new book Lessons: My Path to a Meaningful Life Bündchen reveals the difficult period of her life in which she learned that Tom Brady's ex-girlfriend, actress Bridget Moynahan, was pregnant with his child. Because it was just two months into the beginning of her relationship with Brady, it's understandable why Gisele Bündchen's reaction to Tom Brady having a baby with someone else was so, so emotional, and the passages from her book will make you realize just how much she ultimately appreciates what came from that period in her life.
Back in 2006, Bündchen and Brady (who have now been married for nearly a decade) were just starting their relationship when news that Moynahan was pregnant completely rocked their world. In her memoir, Bündchen writes, "Two months into our relationship, Tom told me that his ex-girlfriend was pregnant. The very next day, the news was everywhere and I felt my world had been turned upside down."
I can't even imagine what this must have been like for all parties involved. And, while the model wrote that it "wasn't an easy time" for her, Moynahan's pregnancy ended up being an incredible gift that "brought about so much growth."
In 2007, Moynahan gave birth to their son, John "Jack" Edward Thomas, and Bündchen wrote how grateful she is for having him in her life. "[He made] my heart expand in ways I didn't know was possible," she said, adding that she considers Jack her "bonus child" and gave her the idea to have children with Brady "sooner rather than later" so that they could be closer in age to their half-brother.
Since then, Bündchen and Brady have welcomed two children into the world, 8-year-old Benjamin and 5-year-old Vivian, who are close-knit with their half-sibling, according to Us Weekly. Bündchen also revealed in her memoir that they FaceTime Jack nightly and that Jack "takes his older-brother status seriously."
Welp, that's all sorts of adorable.
Her honesty on such a sensitive topic is so incredibly refreshing and proves that everyone goes through difficult periods of their life, including celebrities. In an interview with People, Bündchen also talked about her experiences with panic attacks, which might surprise people who have watched her walk fearlessly down the runway. She told the magazine,
Things can be looking perfect on the outside, but you have no idea what's really going on. I felt like maybe it was time to share some of my vulnerabilities, and it made me realize, everything I've lived through, I would never change, because I think I am who I am because of those experiences.
Bündchen then shared with People that she experienced her first panic attack in 2003 "during a bumpy flight on a small plane," which eventually led to a fear of enclosed spaces. She said,
I had a wonderful position in my career, I was very close to my family, and I always considered myself a positive person, so I was really beating myself up. Like, "Why should I be feeling this?" I felt like I wasn't allowed to feel bad. But I felt powerless. Your world becomes smaller and smaller, and you can't breathe, which is the worst feeling I've ever had.
After a reported "total lifestyle overhaul," she told People that she gave up all of the unnecessary things she'd been putting into her body like cigarettes and wine to bring her to a path of healing.
I for one am happy that Bündchen addressed her issues head-on and is able to work towards a life filled with less anxiety. Supermodel or not, everyone deserves a stress-free life, and it seems that she's doing what she needs to do in order to keep everything well-balanced. Kudos to you, Gisele, on making it work!