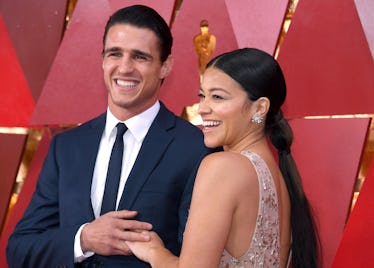 Gina Rodriguez & Joe LoCicero's Body Language Over Time Is So Sweet & Loving
Kevork Djansezian/Getty Images Entertainment/Getty Images
Body language can tell you a lot about people — from how they're feeling in that moment to their deeper feelings about someone or something. A couples' body language can indicate that they're unhappy together, or if there's tension in their relationship. Other times, it can show the exact opposite: that two people are head-over-heels in love. Gina Rodriguez and Joe LoCicero's body language over time shows the latter, and based on their adorable pictures together, I'm not even the slightest bit surprised.
Before we dive into the beautiful love that is Gina Rodriguez and her fiancé Joe LoCicero, let's take a look at their history. They met on the set of Rodriguez's show Jane the Virgin. (Fun fact: LoCicero played a Don Quixote impersonator/stripper.) But they didn't start dating until six months later when they ran into each other at a boxing gym, she said during an appearance on Live with Kelly and Ryan. Since their run-in at the gym in 2016, the two have been beyond happy together, making it very known with their absolutely stunning photos together on Instagram. (Read: this one, this one, and, ugh, my heart, this one, too.) Last August, Rodriguez and LoCicero confirmed their engagement after speculation following several Instagram posts of the two on vacation, featuring Rodriguez sporting a diamond ring on her engagement finger.
The beautiful couple still seem just as smitten with each other as they were in the beginning, and their body language is proof.