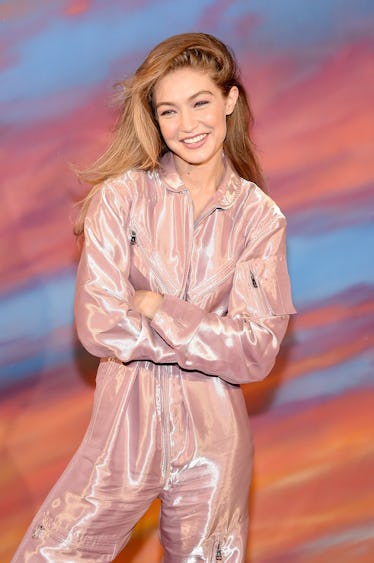 Believe It Or Not, Gigi Hadid Swears By These 4 Drugstore Beauty Staples
Jamie McCarthy/Getty Images Entertainment/Getty Images
When you're just a mere simple commoner like me, making a trip to the drugstore to pick up your everyday beauty products is almost like second nature. And while most celebrities opt to use only the best of the best when it comes to their skincare, one model's down-to-earth approach will make you feel even better about your staple purchases. On Sept. 10, Teen Vogue revealed a few of Gigi Hadid's favorite drugstore beauty products after its team sat down with the runway star backstage at the Prabal Gurung show a day prior. And to be honest, the 23-year-old probably swears by a few of your own staples.
"I've always used CVS skincare," Hadid said. "I just keep it simple. I feel like if you start using 30 products on your face, the second you don't have those 30 products, your skin will need it. And I feel like just keeping your skin clean and being good to it is enough."
So what are the model's faves? Hadid shared that she loves and swears by both St. Ives Apricot Scrub, as well as Neutrogena's Grapefruit Scrub. But don't think the Vogue cover star has suddenly become coy when it comes to her skin — Hadid has always been quite the simple girl with her beauty regimen.
"I wash my face with the cheap stuff from CVS," she told Into The Gloss back in 2014 when she was 19, later admitting to the St. Ives scrub being her go-to face wash at the time. "Whenever I run out I just go and pick whichever one I think looks the coolest or smells good." Hadid also revealed that she uses Eucerin Intensive Repair Very Dry Skin Lotion ($13.29, CVS) on both her body and face.
But while she may not shell out any serious coins for most of her skincare routine, the model admitted that she does love to splurge on the Lemon Sugar Bath & Shower Gel from Fresh ($20, Sephora). "It's my favorite thing in the world — it just smells so good," she said.
But fast-forward to fashion month, and, of course, the star is required to wear a lot of makeup for her shows, which she told Teen Vogue typically results in her face breaking out. "When I have time off, which is obviously before fashion week, I try not to wear makeup at all," she explained. However, she also revealed the one product she likes to use before the madness begins to give her effortlessly luminous skin. "During fashion week, for a glow, after I wash my face and stuff, if I have nothing else on, I like to use the Maybelline Strobe Stick, just on my cheek bones and on my nose," she shared. "If you have nothing else, it's a nice way just to look a little more glow-y before you get to work."
So there you have it, folks! The simplest, easiest skincare routine ever — approved by the great Gigi Hadid herself.
Ah, celebrities, they're just like us.