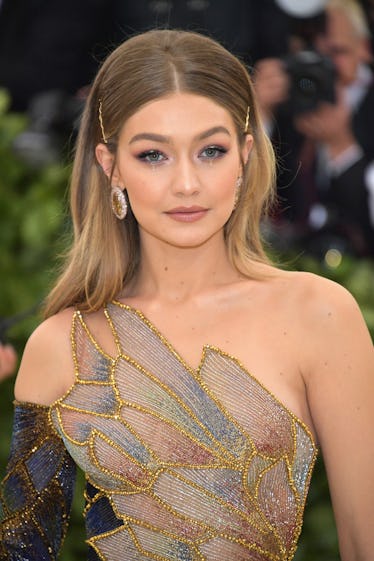 Gigi Hadid's Met Gala Dress Shines Like Stained Glass & It's Gorgeous
Neilson Barnard/Getty Images Entertainment/Getty Images
While some attendees bring outrageous artfulness when it comes to their Met Gala outfits each year, others bring straight up glamour and/or sex appeal. Gigi Hadid's 2018 Met Gala look, however, straddles both lines thanks to its creative inspiration and undeniable wow factor. While the model typically wears gowns that, while beautiful, don't necessarily test sartorial boundaries, her look tonight is about to change that reputation.
Hadid attended her first Met Gala in 2015, so she's still relatively new to the event. Perhaps her gutsiness with looks will increase in the years to come, much like Rihanna's did, but until then, I will be perfectly happy drooling over the stunning dresses she turns up in year after year. In 2015, the gala's theme was "China: Through the Looking Glass," and Hadid arrived in a red Diane Von Furstenberg dress that left many a mouth agape. It featured a thigh-high slip and deep v neckline, and its bodice had been embellished in a way that made it look like hundreds of tiny red roses were dotting it. Her long blonde hair fell in loose waves and she wore strappy matching red shoes on her feet. Overall, she looked every bit a supermodel and while her look could've walked any red carpet (it wasn't super unique to the theme), it was a showstopper nonetheless.
2016 was an especially magical Met Gala for Hadid, as it marked the first red carpet appearance she'd made alongside her then-boyfriend, Zayn Malik. They interpreted the "Manus x Machina: Fashion In An Age Of Technology" theme via robot-esque metal accessories, and Hadid's custom metallic Tommy Hilfiger dress boasted a futuristic air about it.
Last year, Hadid brought the heat in thigh-high fishnet stockings and a peachy architectural dress featuring a long, gauzy train by Tommy Hilfiger. It was certainly the most inventive of the three looks, though it didn't hold a candle to the other creations worn on the red carpet the year. With a theme like "Rei Kawakubo/Comme des Garçons," it was to be expected that distorted silhouettes and sculptural pieces would steal the spotlight.
This year, the theme is "Heavenly Bodies: Fashion and the Catholic Imagination," and Hadid interpreted it in the most glamorous (naturally) and subtly creative way. She arrived once again in a beautiful floor-length gown and while the silhouette itself wasn't exceptionally unique (although it did boast a thigh-high slit and only one arm covered in fabric), it was the pattern on the dress that dropped my jaw.
Reminiscent of beautiful stained glass windows found within Catholic churches, the dress features a pattern made up of interlocking geometric shapes in all different hues. The bust and left side of the dress is composed of oversized shards of "glass" in peachy tones with green, red, and blue shading, while the rest of the gown cascades down in shades of midnight blue and moss green. Designed by Versace, the garment was also flecked with shimmering gold, giving it a regal and opulent look overall.
To match her dazzling dress, Hadid opted for an equally glittery beauty look. Her nails, which were painted green, purple, and blue to match the dress, were outlined in shimmery gold, and her lids, too, were glazed with a twinkling shadow. On her ears she wore oversized earrings in with a deep yellow stone at their center and diamond rims, while gold barettes held her perfectly voluminous hair out of her face. In short, she looked like the Notre Dame Cathedral incarnate — breathtaking and statuesque. And TBH, I'd worship that dress — it's that good.