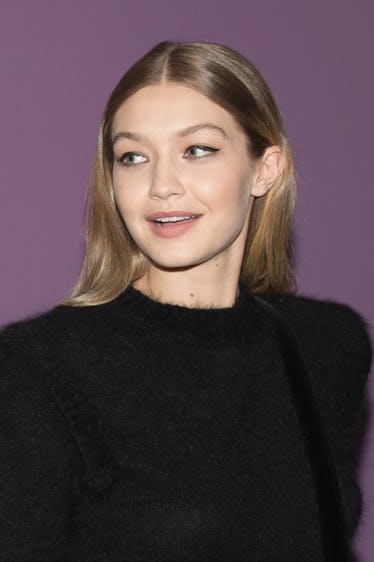 Gigi Hadid Responds To Backlash Over Controversial 'Vogue Italia' Cover Shoot
Vittorio Zunino Celotto/Getty Images Entertainment/Getty Images
Listen up everyone, Gigi Hadid has something to say. Since Vogue Italia released its 2018 May issue, which featured an extremely, uh, bronzed Gigi on the cover, the model has received huge criticism from the public. Well, it looks like she's not staying silent because Gigi Hadid responded to the Vogue Italia backlash over the controversial magazine shoot with some valid points of her own.
Hadid took to Twitter on May 3 to address the the cover shoot and criticism that she donned "blackface" due to her extremely bronzed appearance. In her apology, attached to a photo of her leaving set in which she says she's wearing excessive bronzer, Hadid points out that everything done to the photographs taken are "out of her control" after she leaves set, and she has no say in the creative direction of the cover shoot. However, she goes on to admit that Vogue Italia's intentions were "not executed correctly" and if it were up to her the situation would have been "different." At the end of Gigi's statement, she addresses the importance of representation within the fashion industry and acknowledges that communicating the need for diversity within the field is key in order to create opportunities for an inclusive field of work.
The cover shoot certainly has sparked controversy, but perhaps this will create a dialogue to help progress inclusivity within fashion?
Read Hadid's full apology below.
In the Vogue Italia photo, Hadid is honestly nearly unrecognizable, leading many fans to call the look "blackface." On the cover, Hadid poses in front of a male model while looking directly into the camera. However, it's Hadid's visibly darker skin that stirred reactions. Even though Hadid claims she was "bronzed," it still doesn't answer why exactly the publication felt the need to artificially darken Hadid's skin for the cover shoot.
One Twitter user pointed out this through a tweet
"Not sure what @voguemagazine was thinking? Photoshopped @GiGiHadid to the point where she no longer looks like herself and can totally see why people are calling it blackface. What are ya'll doing??"
The 2018 May Vogue Italia cover may have ignited controversy among circles, but Twitter was quick to point out that this isn't the first time the publication has been accused of altering the model's appearance. In 2015, Hadid appeared in Vogue Italia sporting a large purple afro and apparently artificially darkened skin. Even though her appearance isn't nearly as unrecognizable as the 2018 cover, Twitter users were still quick to point out that the fashion shoot was inappropriate.
Gigi Hadid truly hasn't had the best luck within social media circles over the past year. In February 2017, a video surfaced showing Hadid holding up a Buddha cookie to her face while smiling and squinting her eyes. After viewing the video, fans pointed out Hadid squinting her eyes appeared "racist" since it seemed that she was mocking Asians' appearances. Hadid later apologized on Weibo, the Chinese equivalent of Twitter, saying that "it was never [her] intent to offend anyone through my actions and I sincerely apologise to those who were hurt or felt let down by me," according to the BBC.
The video definitely received backlash from the public, but things took an even more dramatic turn when Hadid announced in November 2017 through Twitter that she wouldn't be attending the Victoria Secret Fashion Show in Shanghai, China.
She wrote,
I'm so bummed I won't be able to make it to China this year. Love my VS family, and will be with all my girls in spirit!! Can't wait to tune in with everyone to see the beautiful show I know it will be, and already can't wait for next year! :) x
It was never confirmed whether the controversial video was the reason behind Hadid not attending the fashion show. However, her confidence for "next year" had fans speculating that the video might have had something to do with it.
It's no secret that the fashion world still has a lot of work to do in terms of embracing an inclusive and diverse industry. On May 1, Victoria Secret model Dilone spoke to The Daily Mail about the industry constantly ignoring demands for change within the field, and pushed for leaders to start challenging the norm.
She said,
Being creative to me is challenging the status quo and trying new things and being with the times. Right now people are saying we want change and inclusion so where is it? Give it to us.
Here's to pushing for more representation and less appropriation. After all, diversity and inclusivity never goes out of style.