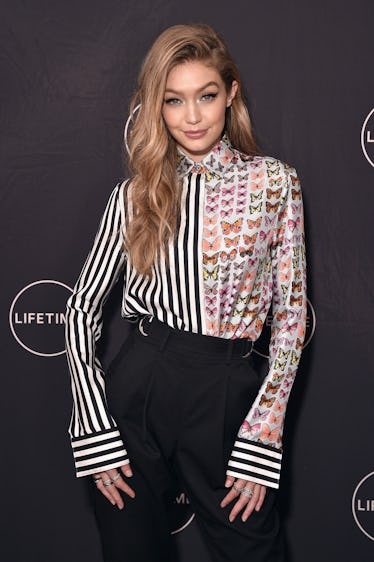 Gigi Hadid Celebrated Her Golden Birthday In The Most Extra Way Possible & We Love It
Bryan Bedder/Getty Images Entertainment/Getty Images
How much do I love Gigi Hadid? Let me count the ways. She's stunningly beautiful, yes. But she's also super talented, a successful business woman, and seems like she'd be beyond cool to hang out with (Gigi, if you're in need of an additional friend, hit me up). And for her birthday, she decided to go all out, because why not? This year was a special one for her, because she turned 23 on April 23 (which many people call a golden birthday), and Gigi Hadid celebrated her golden birthday in all the ways I wished I would have celebrated mine: a big party surrounded by friends and family, multiple outfit changes, and everything gold, gold, gold. Of course, my golden birthday was when I was 8 years old, so I sadly missed my opportunity decades ago. But clearly Gigi had the time of her life, so I'll just live vicariously through her, and none of you can stop me.
According to Elle, Gigi "turned 23 on the 23rd yesterday, making it her lucky 'golden' birthday — and giving her the most lavish theme to run with at her New York City party that night." She and sister Bella Hadid were photographed getting ready for the party, and let me tell you, they are the ultimate sibling goals. Birthday girl Gigi wore "a glitzy gold Atelier Versace dress and makeup," while sister Bella "matched in leopard."
I know, I know. I'm jealous already, too.
In true sibling form, Bella took to Instagram to express how much she loves her sister, and posted the most epic throwback photos of her with Gigi and their mom, Yolanda, who looks like an absolute fox. In part of her caption, she wrote,
23 years ago the world was blessed with a little angel. Best friends since the moment you held me in the delivery room!You've been waiting for this day for your whole life...23!!!! Golden ! Just like u! At least once a day, I think and wonder how I got so lucky to have you as a sister. To have someone to teach me as I grow, to love me as I am, and to be together for every step of the way. I look at photos and watch videos of us growing up, and it just makes me smile/ 😭 because I know that I'd never be able to do this life without you. Nothing would be the same !!!!
She continued, adding,
I am so proud of the woman you are, the ideas you have, the strength you have built, and the love you radiate. Thank you for being YOU!!! When you are truly you, no one can stop you!!!!! I love you more than you'll ever know ! There is no one I would rather spend this life with. My Forever muse and bfff(and ever and ever and ever) My sissy pantelones, The ONE!!!! I love you. @gigihadid
BRB, gotta cry and go call my sister real quick.
But let's stop getting so sentimental. This party was clearly off the chain, and some of Hollywoods biggest names were there, like Olivia Culpo, Hailey Baldwin, and Cara Delevingne, so you know good times were had.
But let's get to the part where Gigi changed from her stunning gold cocktail dress to an even more amazing outfit: gold-embellished sweats.
She blew out the birthday candles on her gold jersey birthday cake in sweats that looked both glamorous and comfy AF, proving that you can be stylish and cozy all at once:
Crushing it, girl.
Gigi also posed with her half-sister, Alana Hadid, and showed off her "23" birthday manicure, because why the hell wouldn't that be a thing?
Most notably absent was Zayn Malik, who dated Gigi Hadid for several years before calling it quits earlier this March. On March 13, Hadid shared a statement with her fans about her split with Malik, writing,
Breakup statements often seem impersonal because there is really no way to put into words what two people experience together over a few years .. not only in the relationship, but in life in general. I'm forever grateful for the love, time, and life lessons that Z and I shared. I want nothing but the best for him and will continue to support him as a friend that I have immense respect and love for. As for the future, whatever's meant to be will always be. xG
While she might still be dealing with her breakup, it looks like she was able to have a fantastic birthday, celebrating with friends and family.