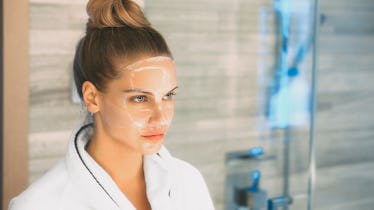 Gifts For Your Beauty-Obsessed Friend, According To Their Zodiac Sign
Instytutum
The holiday season requires a lot of thinking about others and what they could possibly want in their lives, which is difficult for a number of reasons — least of which is the whole taking-a-break-from-thinking-only-about-myself thing. There's nothing worse than giving someone a gift they hate, and watching their anticipation turn to disappointment right before your eyes. Sure, there are plenty of gift guides out there to help you figure out what to give someone based on their interests, but they usually leave personality out of the equation. So this holiday, I decided to come up with one that does both: a gift guide for your beauty-obsessed friend, according to their zodiac sign. This way, you're less likely to swing for the fences and completely miss, rendering you a complete holiday failure.
Not to mention, these gifts are as unique as the signs they're meant for. When you're doing your gift giving research, you can ask someone what their sign is without the impersonal question of "what do you want for the holidays?" Whether you're shopping for a friend, family member, or coworker, any of these gifts are occasion-appropriate. So dive in and see what to get you Scorpio mom, your Libra sister (or brother) and nail this holiday.
Aries
Eye Duo, $40, Alima Pure
Aries is fierce, always on the lookout for their newest adventure, and constantly on-the-go. Their beauty routine needs to move fast, because they don't have the time to bullsh*t around with a bunch of applicators and brushes.
This Eye Duo eyeshadow kit from Alima Pure is cream based without wiping off easily, and you can put it on with your fingertips, eliminating an entire step from the morning makeup routine of your busy Aries friend. It also has two totally opposite colors for Aries swiftly changing moods and impulses.
Taurus
Vilhelm Parfumerie Traveller, $80, Barneys New York
These tiny travel perfumes from Barneys are perfect for sensual, down-to-earth Taurus who loves excess but hates to show off because they find it too "gauche," which coincidentally enough, is a word only Taurus would use to say "tacky."
Taurus has a natural beauty, and they use the power of the senses to reflect that. A perfume is perfect for them; something that costs you. They abhor anything that looks or feels cheap. A small perfume that doesn't take up much space is even better, because they're usually carrying around their entire apartment contents in their purse.
Gemini
Shining Star Ornament, $19, Deborah Lippman
Every sign has a body part it's ruled by, and Gemini is ruled by their hands. That's why for their holiday gift, you should look for something that will showcase their paws off and get them into the holiday spirit. Deborah Lippman's ornamental polish duo is a great stocking stuffer OR gift, and it helps with Gemini's inability to choose just one thing.
Cancer
Oil Botanicals Relief Serum, $35, Riddle Oil
Cancer is ruled by the moon, and being a water sign, they're very sensitive. This makes picking products for their beauty routine a real tossup, because they could have a reaction to basically anything. This relief serum helps with inflammation caused by their moon (menstrual) cycle and the scent relieves emotional stress caused by, well, in this case, the holidays... but also life in general.
Leo
Matt Matt Matt Lipsticks, $10, Essence Cosmetics
Dramatic, theatrical Leos will go for anything that makes them stand out, but being huge lovers of children and animals, they need a product that's cruelty-free. These lipsticks from Essence Cosmetics have been tried and tested by yours truly, and not on any bunnies in a lab somewhere. They stay on for hours too, which is great for the party heavy lifestyle of your popular Leo pal.
Virgo- Keep It Clean With Organic Products
Credo Clean Makeup Kit, $59, Credo Beauty
Virgo is about cleanliness, so their beauty routine should reflect that, not to mention, they are all about efficiency. So for your beauty-loving Virgo, get them something that covers all their basic makeup needs and allows them to transition to a clean (organic, cruelty-free) makeup routine. They're all about self-improvement.
Libra
Plum Beauty Oil, $72, Le Prunier
Libra strives for balance in their skin care routine the same way they do in their lives. Grab them something that's good for their skin, because even more important than a makeup routine is what's underneath it. This plum oil is anti-aging and multi-purpose; it balances and restores your skin and having used it myself, I can say it's actually worth the price. Not to mention, it protects the skin from environmental stressors (like too much holiday partying, but it's up to Libra to strike a balance there.)
Scorpio
Detox & Glow Face Masks, $9 each, Eleni & Chris
Scorpio is all about digging deep down inside to release their own demons in order to make room for more of their light to shine through. They're also incredibly good at practicing a lifestyle that is minimalist to say the least. They don't necessarily want a gift they'll have to lug around with them for the rest of time. So, for the sign of destruction and transformation, I think a one-time use only face mask to detoxify and another to make your skin glow are a good bet.
Sagittarius
Splash Travel Kit, $20, Moda Mythical
Sagittarius is always on the road, and consistently in search of adventure. They're a philosophical bunch, and there's a distinctly hippy-dippy side to them that makes me think they'd appreciate a gift that is both mystical and travel friendly. Unicorn makeup brushes? Sounds about right.
Capricorn
Lip Tint Duo, $20, Alima Pure
Capricorn, as we all know, is all about climbing the ladder of success. They're busy working hard for their money, and they don't have much time to party, but when they do, they're most likely coming from work and going to a work event. This lip tint duo goes from a daytime shade to a nighttime shade, instantly transforming their look without having to transform their whole outfit.
Aquarius
Hydrating Yogurt Mask & Treatment Oil, $64 and $116, Amala
Aquarius, symbolized by the image of the water bearer bringing water back to a thirsty village, is all about doing what's best for the collective. If you ask them what beauty products they most appreciate, it's something that helps the community they live in, or humanity as a whole. That's why, for Aquarius, I think the product is just as important as the company that makes it. Shop for a hydration based product (after all, this is your water-bearing friend) at an environmentally conscious company, so they can feel good about using it.
Pisces
Flawless Pads, $69, Instytutum
Pisces is a water sign, symbolized by the two fish swimming in opposite directions. Naturally, they're all about hydration (in fact, if you ask any Pisces, they either never drink water and suffer for it, or they're constantly staying on top of being hydrated.) For this sign, the best option is a daily peel that harnesses the power of water and hyaluronic acid to hold moisture in the skin, and reduce the size of the pores. Not to mention, they have a promotional code lasting through the end of December; 30 percent off, using code "HOLIDAY 30."
Happy gift hunting, everyone!