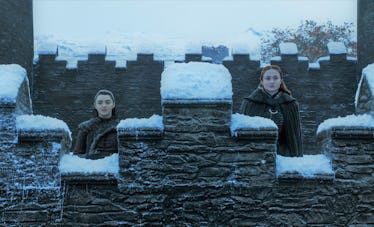 You Can Literally Visit Westeros Soon Because 'GOT' Is Opening Its Sets To Fans
HBO
What Game of Thrones fan hasn't dreamed about walking the walls of Winterfell or making a play for the Iron Throne in King's Landing? Well, your dreams are about to become a reality, because HBO is getting ready to open the most iconic Game of Thrones sets to fans. Game of Thrones set locations will open to the public soon, which means that fans will finally be able to walk through Westeros themselves.
Among the iconic locations that will be made available as attractions for fans are Winterfell, Castle Black, and King's Landing, three of the most well recognized settings from Game of Thrones. All of these filming locations are in Northern Ireland, and HBO is tentatively planning to open them up to the public at some point in 2019. That probably means that after Game of Thrones concludes its eighth and final season, which is expected to air in the summer of 2019, then HBO will officially open the doors of Winterfell, Castle Black, and King's Landing to the fans so that they can get the Game of Thrones experience firsthand.
Each location will also be adorned with props, costumes, and set pieces that fans will know from the show, and HBO is also planning on installing interactive digital materials that will show off how Game of Thrones was able to pull off all those impressive virtual effects. Although Game of Thrones has put on live exhibitions before, the Northern Ireland attraction promises to be the largest and most immersive Game of Thrones experience ever made available.
But you will have to hold off a bit before you book your ticket to Northern Ireland — HBO will reportedly not be opening up the Game of Thrones filming locations to the public until after the eighth and final season airs in 2019. Although the Game of Thrones cast concluded filming the show's last season several months ago, the production team is still working to finish it up, and each set featured in the upcoming Northern Ireland experience will need to undergo an exploratory process before they can be made public attractions.
HBO has not yet revealed when the eighth and final season of Game of Thrones will premiere, but we do have a pretty good amount of information to go off of. The network president has already revealed that the new season will begin airing in "early 2019," which basically narrows it down to anywhere from January to June. The show's visual effects supervisor was a bit more specific, saying that his team would be working on the season until May of 2019 and that the season will likely be ineligible for the 2019 Emmys due to deadlines.
Factoring in that information, it looks like the best bets for the Game of Thrones Season 8 premiere date right now are either May 19, 2019 or May 26, 2019. But of course, we will not know for sure until HBO makes an official announcement. And after that, we also have walking through Winterfell and King's Landing in real life to look forward to!