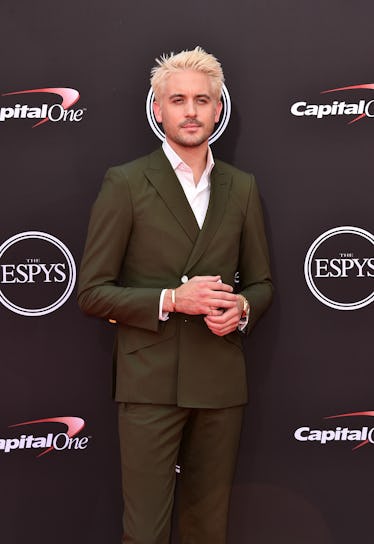 G-Eazy Just Said He'd Consider Using Dating Apps Now That He's Single & He Better Be Joking
Alberto E. Rodriguez/Getty Images Entertainment/Getty Images
I have to be honest, I'm not really "about" G-Eazy right now. I've had mixed feelings about him since cheating rumors began circulating after his breakup with Halsey and the rapper's latest joke about dating isn't doing him any favors. G-Eazy's comment about using dating apps now that he's single is just throwing gasoline on the fire, even if he was joking. Elite Daily reached out to both Halsey and G-Eazy's teams for comment on the cheating allegations but did not hear back by the time of publication.
G-Eazy recently stepped out on the 2018 ESPY Awards red carpet with bleached hair and no girlfriend. During an interview with E! News, he dodged directly addressing Halsey but did say he is using his music as therapy. He told E! News' Sibley Scoles he's "constantly" making music, adding, "Anytime anything's going on in my life, I go straight to the studio. That's my therapy. That's where I get it out. Other than that, it's my favorite place to be. It's my happy place."
As for his remarks about dating apps, it seems like he just swung and missed with a bad joke. When asked if he would ever consider using social media to date now that he's single, G-Eazy responded, "Maybe I'll make a fake account with a crazy photo and they won't know it's actually me." Hey, G-Eazy. Quick tip from me to you — joking about jumping on dating apps less than a month after breaking up with your ex probably isn't the best idea considering how despondent your fans are at the moment. Not to mention, catfishing is never the way to a person's heart. Just a heads up.
That said, G-Eazy did have some thoughtful comments about his career telling Scoles, "You really gotta count your blessings and remind yourself how special your life is."
Halsey first announced her breakup with G-Eazy on July 3 by sharing a message on her Instagram story. She wrote:
I normally keep this kind of thing private but provided our public nature I feel the need to inform my fans. G-Eazy and I are taking some time apart. I'm eager to continue the upcoming passage of time dedicating myself to my art and my career, and the duration of my tour. I wish him the best. Thanks for respecting our privacy at this time.
A day later, she sparked cheating rumors by posting a picture of scissor emojis on Twitter and the phrase "pumpkin eater." She's since taken the scissors down, but fans think it was referencing the G-Eazy lyric in their collaboration song "Him & I" that goes, "Ever catch me cheating, she would try to cut my [d*ck off.]" As far as "pumpkin eater," it seems it's in reference to the old nursery rhyme "Peter, Peter, pumpkin eater" which is regularly recited as "Cheater, Cheater, pumpkin eater."
All things being equal, it seems like maybe the rapper was just trying to make the best out of being asked an awkward question. A moment later, he joked that he would rather become an Uber driver than get involved in dating apps. He said, "I really want to make an Uber account and drive in some of my favorite cars and just pick people up as an uber X..."
Hey, we all have dreams.