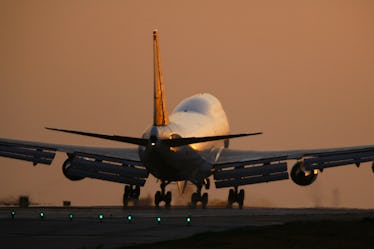 These Flash Sale Airline Tickets Are Only $20, So BRB, Packing My Suitcase
David McNew/Getty Images News/Getty Images
Winter is officially upon us, and the holiday season is fast approaching its end, which means one thing: my god, please get me somewhere where I can get a little R&R. If like me, you're desperate to get away for a long weekend — and you're in luck. Frontier Airlines' flash sale is offering up one-way plane tickets for as low as $20. Sign me up, guys.
According to Thrillist, there are 30 routes on Frontier Airlines' post Christmas sale where a one-way ticket will go for a measly 20 buckaroos, and more than a hundred where you can travel one-way for less than $50. The flight routes are all within the United States, and of course, the shortest routes are the cheapest. But still — there are routes from Long Island to West Palm Beach for under $50, or from Colorado Springs to Las Vegas for only $20. That's a steal if ever I heard one.
Of course, the catch is that you'll have to act fast. The deal is only valid until Wednesday, Dec. 27, at midnight, and the flight dates available are for Jan. 4 through Feb. 14. So pull out those planners and start checking your schedule. A weekend vacation doesn't just plan itself.
And while the price is a deal, don't forget that everything must be paid for, and I'm not talking about the fees. Thrillist notes that Frontier is a budget airline, which means that there are extra fees for checked baggage and carry-on items, so you'll want to be extra careful with packing. What's more, the airline has one of the lowest rates of on-time arrivals (and the number of canceled flights ain't too hot), so, basically, don't schedule any plans for immediately after you land.
Honestly, I couldn't care less about squeezing in with my luggage or spending an extra 45 minutes at the gate if I can get all the way to West Palm Beach for the cost of a nice bottle of wine. I will take it (and take my wine with me).
And if none of these destinations appeal to you? There's plenty of other airline deals out there.
If you just need to get out of the country for a little while, there's always the option of WOW airline's $99 flights to Iceland, which are available for purchase through May of 2018. Again, the flights are one way, but even so, getting to and from Iceland for a scant $200 is pretty good. An affordable week or so hanging out with the elves and a low crime rate sounds pretty awesome to me.
Or, if you're more inclined to sunshine and beaches, there's also good old Hawaii. One-way trips to Hawaii are running for as low as $280 (!) out of Los Angeles, and round-trip flights out of New York airports are going for around $600, so there's no reason to miss out on a little tropical winter break, no matter where you're starting from.
And if you're really into the tropical experience and have a little extra cash to blow? There's also these discounted trips to Fiji, where you can get to the island paradise — round-trip — for just about $900, which is actually a great bargain for the 11-hour flight.
Best part? Americans don't need a visa for any of these vacations, even Iceland or Fiji (though you'll still have to bring your passport, of course). So go ahead and book your ticket with a light and airy heart.
The holidays may be nearly over, but don't forget that they're all about giving. And if you ask me, that includes giving yourself a nice little break. Later, guys. I'll see you all in West Palm Beach.