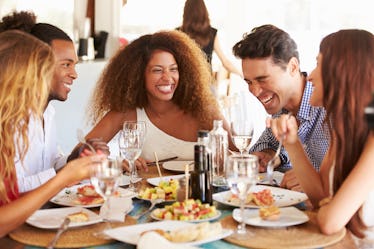 7 Ways Friendsgiving Is So Different In Your Early 20s Versus Your Late 20s
Friendsgiving has become a highly-anticipated tradition. It's a time to be with all of our closest friends who have seemingly become family, and celebrate the holidays. As we get older, though, you'll start to realize how friendsgiving in your early 20s and late 20s is totally different, and with it, you are doing some evolving as well.
This change doesn't take away from the holiday or anything. With age, comes more perspective and interpretation, as we face and conquer certain events and milestones in our life. Growing up is so awesome, isn't it? Anyway, these changes are mostly because of what's going on in our lives and oftentimes, those things are dependent on how old we are. Do we still enjoy our friends? Yes. Are most of our views and values changing? Definitely.
Almost unknowingly, we are adapting everyday, and because you are part of such a dope group, your crew is here for the evolution. No one's planning on acting brand new, but no one probably intends on staying the same forever. If you've planned a party with the same group of peeps for Friendsgiving every year, you've probably already caught on. If not, expect a few of these things to change overtime when it comes to the layout of your Friendsgiving.