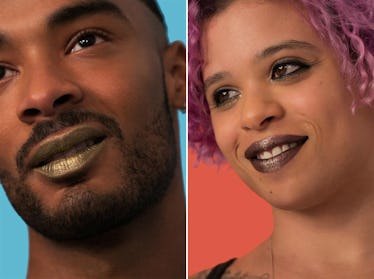 Gender-Neutral Beauty Brand Fluide Is Inclusive, Affordable, & Glittery AF
Fluide
Makeup can be used by any gender, some of my favorite beauty bloggers are men, but it is almost entirely marketed towards women, until now. One new beauty brand is changing the way consumers see the beauty industry with Fluide gender-neutral makeup. This inclusive line of makeup is intended to be used by any and all humans.
A quick backstep to tell you about some of the fiercest male beauty bloggers out there because if you don't know about them, you're missing out. YouTuber Patrick Starrr (real name: Patrick Simondac) is one of the most entertaining bloggers, and he's talented AF. Blogger Bretman Rock masters everyday glam for his 8.7 million Instagram followers, and James Charles was CoverGirls' first male spokesmodel. CoverGirl featuring a man in their ads was a big step in paving the way for more men and non-cis-gendered individuals to feel more comfortable wearing makeup, but Fluide is taking it a step farther.
Makeup counters are catered towards women, and anyone (man or woman) who is not a stereotypical girly girl may feel uncomfortable or intimidated. Genderless fashion and shopping is becoming a reality with app Rigit, and Fluide is now doing the same for makeup. The brand features models of all genders, races, and sizes, clearly marketing their products to all consumers. Even more, Fluide's cosmetics are cruelty-free, and the company regularly donates portions of their sales to non-profit organizations that support LGBTQ rights. So when you buy from Fluide, you'll look and feel good.
Fluide Liquid Lipstick in Poodle Beach
($16; fluide.com)
Fluide has six different shades of liquid lipstick that range from a matte dark violet named Dalston Superstore to a shimmery gold called PAT. This slightly shimmery purple shade called Poodle Beach is a beauty, too. You can see all the lipstick shades here.
Fluide shows off the liquid lipstick colors on varying skin tones and genders to emphasize that it can work for anyone.
Fluide Glitter in Bronze
($12; fluide.com)
The glorious glitter pots can be worn on your eyes, cheeks, lips, or wherever else you please, and Fluide's Glitter Fix ($12; fluide.com) will help keep it all in place.
There are six different glitter pots in Bronze, Gold, Silver, Silver Hex, Electric Sea, and Prism. The pots are all very fine powder-looking glitter, with the exception of Silver Hex (above, left) which has larger flecks.
Fluide 7-Free Polish in C'Mon Everybody
($15; fluide.com)
Among the seven colorful and shimmery nail polishes, this one is my favorite. It's an irredescent gunmetal grey and it's named after a great bar of the same name in Brooklyn, NY.
The polishes are actually all named after LGBTQ-friendly places in and around New York City, such as Jacob Riis Beach and House of Yes nightclub.
The polishes are "7-Free" because they forego seven highly chemical-sounding ingredients typically found in other nail polishes. So in addition to being cruelty-free, Fluide's nail polishes are non-toxic and vegan, too.
The genderless brand's central moto is,
Fluide is where we meet our irreverent, otherworldly selves. An irresistible future where radical inventiveness & queer kinship thrives. To us, beauty is malleable, political, powerful, play. We are they. We are them. We are you. We are Fluide.
Fluide currently donates a portion of its proceeds to Callen-Lorde, a New York-based health center for the LGBTQ community, and to the Sylvia Rivera Law Project which helps to allow individuals to legally determine their own gender identity. The brand also welcomes submissions for additional charitable causes that you think they should support. And considering that their products already have such low price points (i.e. they're affordable AF), Fluide's charitable donations make buying from this brand that much sweeter.