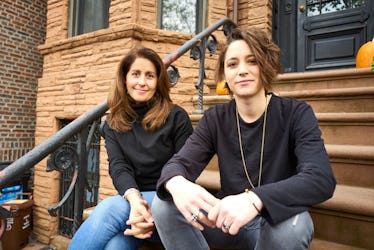 This New Gender-Neutral Shopping App Literally Orders Cool Outfits For You
RIGit
Fashion has historically been just as much about gender as design. What you wear can speak volumes about who you are, but you're forced to choose a side — male or female. Until recently, figuring out where to buy genderless clothing has been a challenge, but new shopping app RIGit streamlines the process in the most epic fashion.
Whether you're shopping online or at brick and mortar stores, pay attention to the stark separation of men's and women's fashions. Almost every store is divided this way — many brands, such as J.Crew, even have entirely separate stores for men and women. Consumers nowadays, though, are leaning more and more towards gender-neutral clothing. Zendaya introduced gender-neutral fashion line Daya by Zendaya in 2017, baby clothing that bucks traditional color palettes is becoming increasingly popular, and heck, even Abercrombie kids just launched a gender-neutral line — so why does the distinction still exist so deeply for adults?
This is not to say all clothing must by unisex, but that the profound demarcation between men's and women's fashion is a bit archaic. Many people prefer wearing clothes of another gender than which society labels them, and others enjoy wearing men's and women's clothing without being forced to decide between the two groups.
A new fashion app called RIGit troubleshoots this issue and then some, offering a seamless experience for shoppers who crave style inspiration sans stereotypes. I spoke to the creators of RIGit and got the scoop on why they made the app, and exactly how to score the cool-person duds.
The Story of RIGit
Amy Bender (left) and April Mellas (right) are the co-founders of RIGit and are revolutionizing the way the world shops. The idea for the app came up while the two were chatting about clothing and wondered, "What makes a sweater a 'boy sweater?' The color, the material, the size?" Bender explains,
We know that the assignment of gender to clothing is simply a marketing ploy to sell more stuff – but at what expense? By assigning gender to these objects we are loading so much baggage and stereotype onto articles of clothing.
Bender and Mellas are not creating a line of androgynous, baggy sweats, though:
RIGit is about taking clothing that might have originally been designed only for a male or only for a female and styling them in a way that can appeal to a wider audience.
The app aims to break the stigma around clothing labeled as "Men's" and "Women's." Mellas has personally experienced uncomfortable situations while shopping, either feeling awkward in the men's department or being mistaken for a man in the women's section. These incidents are part of what fueled her ideas for RIGit. "We believe that any article of clothing should be worn by anyone that likes it," states Bender. Gendered items be gone!
How Does The App Work?
Once you've downloaded RIGit, you fill out your profile by selecting your personal style(s), occasions you'll need to dress for, and the types of items you want. In line with the app's theme, these selections are flexible and you can change them at any time.
Once you've input your style choices, RIGit acts like a personal shopper, taking the guesswork out of assembling outfits and curating head-to-toe looks for you to swipe through. But don't expect the overwrought palette of neutrals that comes to mind when you envision genderless clothing, because it's actually the exact opposite.
"We can offer a broader array of color because typically men's and women's lines utilize different color schemes for each season," says Mellas. The pieces on RIGit average in price range from $15-$300, with basic everyday sweaters and special occasion leather pants to boot.
The looks you swiped right on will be saved in your "My RIGs" section, where you can take a closer look at them and view pricing on individual items.
Here's the best part of RIGit: once you've picked out which items you want to buy, you can order them all together within the app. No more bouncing between apps or web pages to buy what you've seen on another site. You can order everything together, and the app takes care of dispatching the orders to the appropriate brands. RIGit is not just a glorified mood board, it's the appropriate shopping experience for a time-strapped generation that lives on their phones.
"It was our passion to create this space for anyone who sees a pair of jeans as simply a pair of jeans, who wants to dress their style and individuality, not an artificial expression of someone else," states Bender. Mission accomplished.