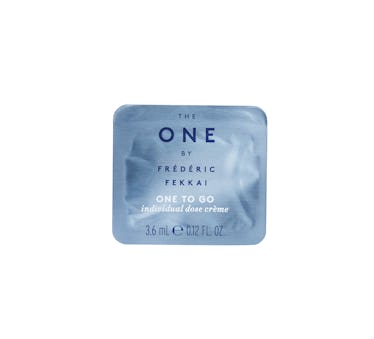 Frizz-Busting Hair "Condoms" Are Here, Just In Time To Protect Your 'Do For V-Day
Frédéric Fekkai
Single-use hair products are booming in 2018. Our favorite brands have realized that we millennials are busier-than-thou, and can't be bothered with clunky cans that accidentally spray in our bags. And even though one-and-done minis are becoming readily mainstream, these Fekkai The One hair condoms really take the cake. No, that's not a typo or a terribly unfortunate autocorrect: These little packets are metaphorical condoms for your hair, serving as tiny safeguards against the elements (come what may) this Valentine's Day.
Yes, these single-use hair creams are being positioned as hair condoms. The PR team's pitch really nailed the comparison:
With Valentine's Day around the corner, it has to be put out there. The One By Frederic Fekkai has launched basically the ultimate hair condom... They totally outdid Trojan on the ever so chic packaging. However, like your best male contreceptive on the market these little individual doses pack some high-performace and protection… to your silky strands, long, short, curly or straight!
Who doesn't need a little protection (for their hair) this V-Day, TBH?
The One by Frédéric Fekkai One to Go Individual Dose Creme boasts six single-use packets of hydrating, smoothing creme that ensure your hair looks smooth as silk, even after hours of sweating, friction, and... impassioned conversation. Simply tear open the package, squeeze out the product, and work through your dry hair to tame the evil frizz that often accompanies post-coital bed head (which ALWAYS looks so much better in the movies).
The One by Frédéric Fekkai One to Go Individual Dose Creme, $34, Ulta
The metallic packaging adds a level of sophistication unique for something you're about to toss in the trash. In my humble opinion, it's more subtle and sophisticated than those bright gold Trojan wrappers that basically scream out "I was purchased at a gas station." In addition to the chic factor, they are essentially weightless, so that means you can store 'em anywhere from your clutch to your back pocket, for quick and easy touch-ups. Did your date unceremoniously muss up your hair with their fingers? Just whip out one of these insurance policies, open it with your teeth, and continue slaying.
Never mind that you don't have to worry about one breaking open in your bag and coating your wallet in fancy-scented creme. If you travel with a plethora of beauty products in your bag (I'm a walking Sephora), then you know the struggle. I've lost count of how many times I've taken a small, squeezable container of hair smoothing cream on the go with me only to find that it had exploded all over my purse at some point throughout the day. Lipsticks, wallets, and mirrors have met their demise after being accidentally greeted by hair goop. I've spent hours cleaning out the bottoms of bags that deserved much better than the stickiness that the products leave behind.
The One by Frédéric Fekkai One to Go Individual Dose Creme, $34, Ulta
This hair condom is admittedly much more stress-free to apply than a real one, amiright? If you have thicker, dryer hair, feel free to slather the contents of the packet all over your strands wherever they need a little extra love. If you have thinner hair, less is more. Start with half the packet and work in from the mid shaft of your hair to the tips, avoiding the root. There is no wrong way to get it on.
"Whenever, your locks are looking a little limp, pick em' right back up with Frederic!"
While hair condoms might seem like a joke, the elegant ingredients in this frizz-fighting cocktail are no laughing matter. Norwegian Sea Extract? Please sir, can I have some more?
The One by Frédéric Fekkai One to Go Individual Dose Creme, $34, Ulta
Run to your nearest Ulta now before you're left without protection on Valentine's Day — from frizz, dehydration, and the aftermath of bae's grubby paws.