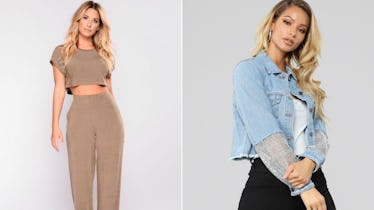 Fashion Nova's Black Friday Sales Will Help You Sleigh The Holidays In Style
With Black Friday on the horizon, it's time for serious shoppers to start planning what deals they're going to snag. It also depends on what you're shopping for. If you're looking to spice up your wardrobe, you might want to check out Fashion Nova 2018 Black Friday sales. If you haven't heard of Fashion Nova before, the online fashion retailer is quickly becoming one of the biggest brands with the hottest trends. In fact, they've even jumped on the hottest dress of the year, Meghan Markle's reception gown, making a stunning replica of it.
It seems like Black Friday comes earlier and earlier each year, and now, before you even dig into your turkey dinner and pumpkin pie, you can shop 25 percent off select styles online, via Fashion Nova's early Black Friday deals. If you're looking for a few new outfits for the holiday parties you're attending this year, you'll definitely want to check out their dresses and chic tops. With a variety of different styles and colors, you'll find something perfect for your night out with the girls or date night with bae.
You can also get a head start on your New Year's Eve look by snagging a sparkly outfit that's on sale right now. From cozy hoodies, to distressed denim, to mesh dresses, to leather skirts, and so much more, you're sure to find something that fits your personal style and plans. It's safe to say, with the brand's early Black Friday deals, you'll want to take advantage of that "add to cart" feature as soon as possible... and keep your eyes peeled for what sales are to come on Black Friday.