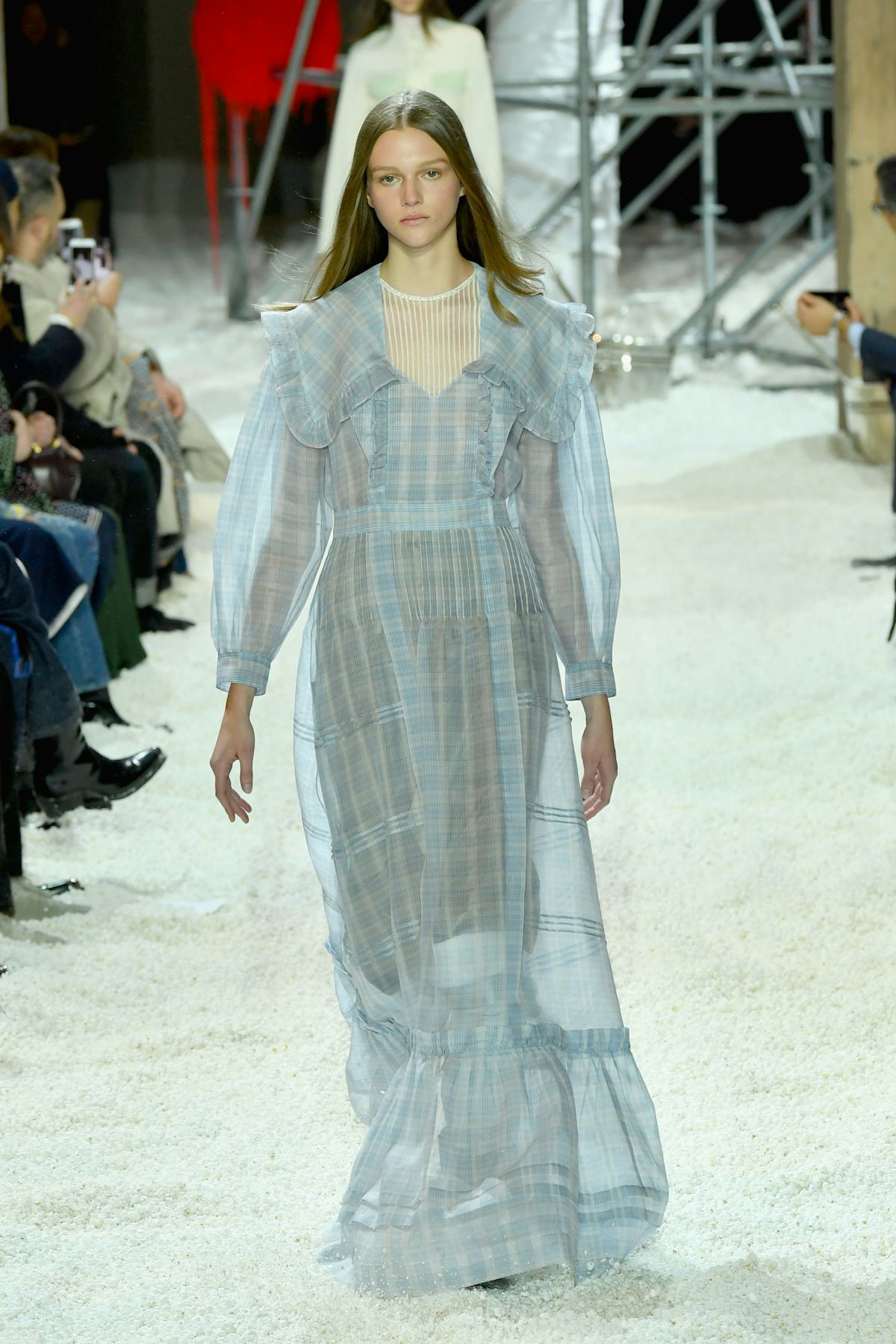 These Are The 5 Dress Trends You're About To See Everywhere For Fall
Slaven Vlasic/Getty Images Entertainment/Getty Images
I cannot wait to pack away my denim cutoffs, teensy tank tops, and all things gauzy and sheer. Fall 2018 dress trends are so good that I want crisp air and fiery leaves to arrive as soon as possible and usher in with them the best sartorial season there is. Sure, mini skirts and flirty sandals are fun for awhile, especially after months of completely bundling up against the snow, but I've had more than my fill of skin-baring styles and am itching to slip into something refreshingly cozy. Preferably with hot chocolate in hand.
This year, fall dress trends are split between the rather expected and the slightly out there. On one hand, traditional quilted, crochet, and knit textiles are once again holding court, as they have been for the past handful of seasons. Knit items are standard to fall fashion and won't ever be regarded as a surprise. Autumnal florals are also back with a predictable bang—you can't go wrong with beautiful gauzy gown covered in lush blooms. On the other hand, '80s silhouettes, wild animal prints, and even prairie-style dresses (think Little House on the Prairie) are shaking things up a bit. Checkout these major dress trends for fall below—will you go classically cool or fearlessly far-out?
Home Grown
As mentioned above, knit, crochet, and quilted textiles are nothing new when it comes to autumnal styles. Knitwear is a cold weather staple—always has been, always will be—while quilting and crocheting has experienced a resurgence over the past five years. Thanks to designers like Calvin Klein, Etro, Sacai, and Missoni, a whole new batch of handcraft-inspired dresses are here to ogle and then find in affordable form.
Fall Florals
Fall florals are also nothing new. Year after year we see dark, grungy iterations and unseasonably bright ones alike take to the runways and for good reason: bud-studded dresses can be worn anytime, anywhere, and any way. They are my go-to and I firmly believe you should own at least two per season. This year, designers such as Dolce & Gabbana, Christian Dior, Valentino, and Giambattista Vali put their spin on the trend. Here are a few of the standout looks, below.
'80s Redux
'80s silhouettes started to re-emerge as modern cool a season or two ago but for fall 2018 they've arrived with an exceptionally powerful bang. Puffed shoulders, shimmery fabrics, black leather fabrics, and bright blocky color palettes define some of the coolest dresses of the season. Saint Laurent, Marc Jacobs, Givenchy, Isabel Marant, Miu Miu, and Versace were just some of the designers to champion the trend.
Running Wild
Animal prints, namely zebra and cheetah, are having a major moment, but not in the Jersey Shore type of way you might be imagining in your head. A refined and elevated take on such prints has rendered them elegant and tasteful, but with a bit of an unexpected edge. You only need to look to the collections of Carolina Herrera, Proenza Schouler, Area, and more to see how they've been aced.
Little Women
Prairie dresses — like those that Little Women's Meg, Jo, Beth, and Amy March might've worn — are here, and not in an ironic way. At first, I was uneasy about this trend, but after seeing it styled with super modern shoes and accessories, it's one I am now totally behind. Calvin Klein, Altuzarra, and Coach did it well.