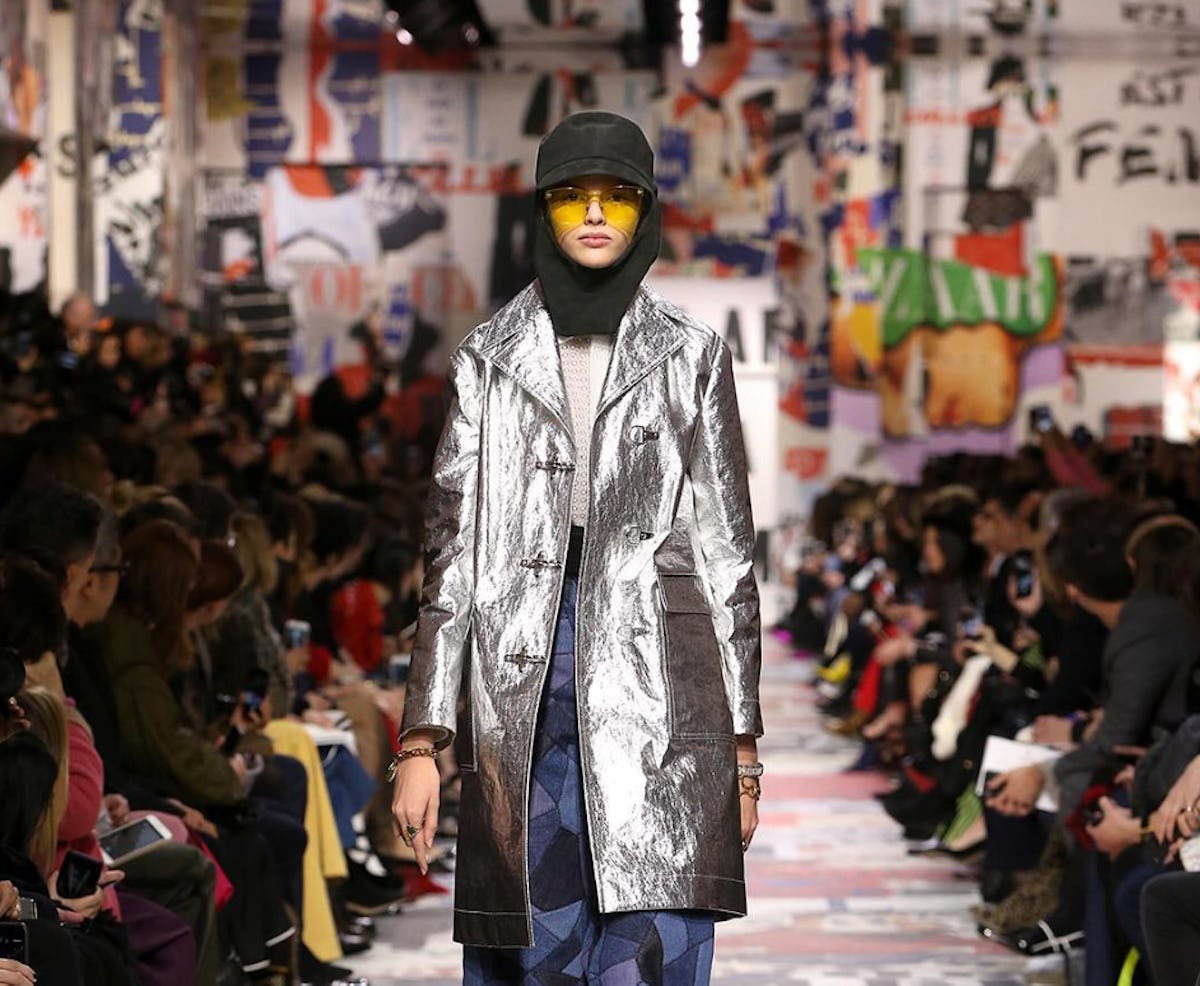 Get Ready To Shop These 4 Fall Jacket Trends That Put The Average Puffer Coat To Shame
Bring on the chilly breezes, pumpkin spice lattes, and cozy dressing from head to toe. I'm beyond ready for autumn to hit and bring with it all of the fall 2018 coat trends I've been eyeing since they first hit runways months ago. There's something so exciting (perhaps unhealthily exciting) to me about going on that first cold-weather shopping trip and picking out a jacket or two that will compose the majority of your street style for the next four months, and I personally can't wait to find my new signature cocoon.
After looking through the stellar collections that took to the fall/winter 2018 runways, there are four main outerwear trends that stick out for their various interpretations by a number of designers. One trend is decidedly futuristic, one is ultra fuzzy, another is as classic as it gets, and the final trend is quite literally wild. In other words, no matter what your fall style is there'll be something in the roundup to top it off perfectly. Check out the four trends below along with shoppable items for each — I hope they get you just as excited for the changing of the seasons as I am.
Borrowed From The Boys
Traditional menswear fabrics including plaid, houndstooth, herringbone, and tweed are a fall fashion staple and this year the offerings cut from those cloths are better than ever. From boxy blazers to fitted peacoats, the array of styles is what slightly tailored cool is made of. I'd pair any of the below coats with a black mini skirt, knee-high boots, and black turtleneck for a sharp and effortless look, but if head-to-toe plaid à la Cher Horowitz is more your style, I fully support that look, too.
Shear Genius
Is there anything more comfortable than (faux) shearling? The answer is no, which is why jackets made from the puffy, cloud-like fuzz are oh-so-covetable. Whether the shearling appears in accent form around collars and cuffs, or constitutes the entire body of a marshmallow-esque jacket, it's bound to make you feel like you're wearing a giant, warm hug. I'd pair any of the below with stretchy knit pants and black low-rise Ugg boots for the comfiest outfit on earth. Comfiest, not chicest.
Fine Prints
Animal prints, from zebra and cheetah to cow and tiger, are having a huge moment, especially when it comes to bold outerwear. From ankle-length dusters to cropped jean jackets, silhouettes are getting a wildly edgy update. Pair one of the below options with an all-black look to really allow it to pop or pair it with a printed dress for an especially in-your-face look.
The Future is Here
Futuristic coats are back once again, meaning silver outerwear of all types should be at the top of your shopping list. Reminiscent of wearable space blankets, the styles are shiny, reflective, and as bold as any solid colored garment can get. Be prepared to turn heads (and lower sunglasses) with this trend.
Happy shopping!