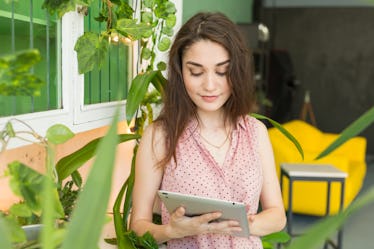 Etsy's Top 10 Instagram Posts Will Make You Want To Redecorate Your Entire Apartment RN
It's time for some spring cleaning — which may mean out with the old, and in with the new for you. Every year, I try to do a little bit of cleanup in my space, getting rid of things I don't need or use anymore. The goal is to get closer and closer to my dream apartment, decorated exactly how I want it to be. When looking for chic redesign inspiration, you likely head over to Instagram to get a feel of what's trending right now. If that's the case, Etsy's top Instagram posts will make you want to redecorate your entire apartment right now.
According to Etsy's blog post, the online shop collected their top 10 Instagram posts over the past three months, and organized them into one list for you to scope out for yourself. Judging by the items on the list, it's clear that floral designs are trending this year. I'm also getting a sense that the color palette of 2019 thus far consists of earthy greens and pastel pinks. (I want to incorporate them in my living space decor ASAP.)
Adding any of the below items to your space may be super trendy, but will also feel totally unique to you. Happy spring cleaning (and shopping)!