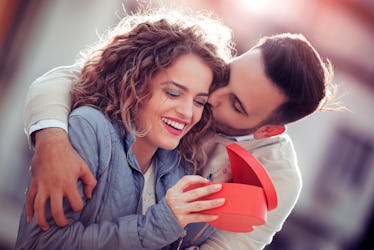 Etsy's Top Gift Trends For Valentine's Day Are Here & One Of Them Is A Major #TBT
Roses are red. Violets are blue. Valentine's Day is almost here, and when it comes to picking out the perfect gift for bae, you may have no clue. Of course, there are the trusty go-to's like flowers, chocolates, and a sweet card, but you want to switch things up this year. Whenever I'm struggling in the shopping department, I turn to Etsy for some gift inspiration. With a simple search, you can find just about anything your heart desires, and Etsy's top gift trends for Valentine's Day are officially here.
Whether you're looking for something cute to give bae on Valentine's Day, or a gift for your besties on Galentine's Day, Etsy has you covered. I've always thought the best part about Etsy is that there are a lot of gifts you can get personalized. So, not only have you thought of a gift that your loved one will absolutely adore, but it's also something that's one-of-a-kind.
To top it all off, you can choose something special from Etsy's top trends guide to ensure your gift is trendy AF. You no longer have to parade up and down the aisles of heart-shaped boxes and teddy bears at the store. Your perfect Valentine's Day gift could be one of these Etsy gifts.