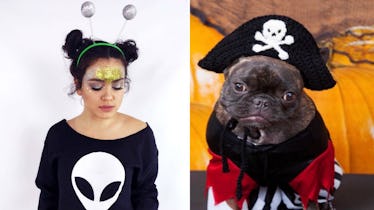 Etsy's Halloween Costume Trends Are Here & Your Pup Will Pawsitively Shine
When thinking of Halloween costume ideas, inspiration can come from all sorts of places. You may be influenced by your favorite TV show or movie, and of course, you have the Internet as a go-to source that keeps you updated on the latest trends. For example, you know you can always turn to Etsy for the best kind of inspiration. With Etsy's 2019 Halloween costume trends, you know exactly what people are searching for and it may help you decide what you want to be this year.
The countdown to Halloween 2019 has officially begun, so it's time to get your spook on. Not only do you have to come up with a costume for yourself, but you may have a furry friend at home who needs something cool to rock to the pawty too.
Etsy is like an awesome friend who is always there to provide you with a variety of ideas. Out of all the suggestions Etsy has to offer for Halloween 2019, dog costumes, alien-themed costumes, and lion costumes take the win. If you're like me and need some assistance, you might want to consider putting any of these five products from Etsy into your shopping cart as soon as possible.