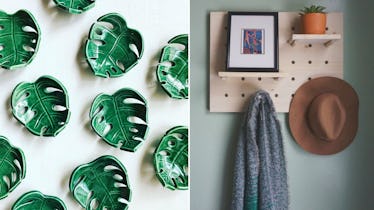 5 Etsy Items You Need This Fall For The Most Insta-Worthy Dorm On Campus
Every fall, I viewed heading back to college as a chance to start totally fresh. Going shopping for my dorm room was an opportunity to pick out decor that would not only set up the rest of the school year for success, but also be a creative outlet to express myself. (Let's be real, though: It was a chance to have the coolest room on campus, too.) If you need a little inspo to create the dorm room of your dreams this year, Etsy's 2018 dorm decor trends are here, so get ready to swoon.
All dorm rooms start out the same, like a blank canvas for you to do absolutely anything you want with. If your goal is to have a room that's the trendiest on your entire floor, look no further than Etsy's trend guide that'll serve as a helping hand. It's full of ideas and some picks from their top five most-searched decor trends this year: monstera, celestial wall hangings, feminist products, wall storage, and faux headboards.
I love Etsy, because if you have a vision in your mind, you're sure to find it. Kick the semester off right with the perfect dorm room that you'll never want to leave.