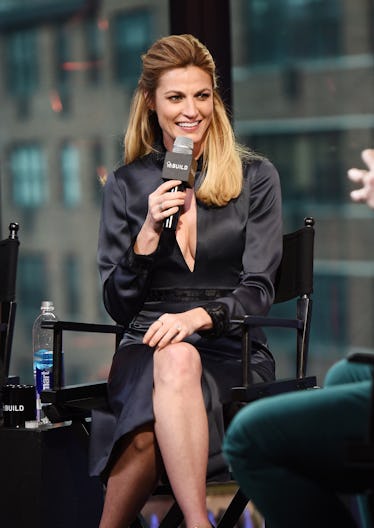 Erin Andrews Reveals How To Prove People Wrong When They Doubt Your Dreams — EXCLUSIVE
Nicholas Hunt/Getty Images Entertainment/Getty Images
Sometimes the road to success is a bumpy ride with twists and turns. One day you stroll into the office with note cards and a crisp button-down shirt, the next you're scrambling to hide the dribble of coffee you spilled all over your pants. Dancing With The Stars co-host and NFL commentator extraordinaire, Erin Andrews, realizes it's not exactly swoon-worthy to advertise yourself as a hot mess, but sometimes that's just life. In an exclusive interview with Elite Daily, Erin Andrews reveals how to prove people wrong when they doubt your dreams, and her number one tip neatly coincides with how she handles messy situations (both literally and figuratively): owning it. "People are always going to second guess you, they're going to wonder why you're there," she tells me over the phone. "It's kind of up to you to prove them wrong, and show them that you belong."
If you're a fan of the NFL, or, at the very least, were flipping back and forth between channels during Super Bowl LII to watch the commercials, you might remember Tide's "if it's clean, it's got to be Tide" ads, starring David Harbour from Stranger Things. Now, in the brand's partnership with Andrews, Tide is taking its commercials a step further, with clips that are meant to leave fans wondering if the content is part of the actual NFL program, or a Tide ad. To break the fourth wall even more, Tide has also asked some of the most buzzed-about names in NFL, such as Patriots tight end Rob Gronkowski, former Cowboy Troy Aikman, former Broncos running back Terrell Davis, and sportscaster Joe Buck, to play their own roles in the campaign.
When Erin Andrews first got the call to join the campaign, she tells Elite Daily the partnership was pretty organic.
"Tide reached out to me, and I feel like I'm their perfect person," the sports commentator says. "I've gotta say, nobody knows I'm a bigger hot mess than my team around me. I actually travel and use about five Tide sticks in my carry on, and in my makeup bag."
In many ways, Andrews' work with Tide seems almost symbolic of how the 40-year-old newscaster has handled herself throughout her career. Andrews has been all over the sports commentary industry since her college days at the University of Florida, and she tells me that, much like the way she handles the occasional makeup stain on a white blazer — i.e. she keeps her cool, grabs a Tide To-Go Stick from her bag, and quickly moves on to the next task at hand — the sportscaster's work ethic is fierce and motivated.
Andrews is the kind of woman who has always kept her eyes on the prize, from the time she was a small town girl with big dreams, to the moment she broke into her industry and made a name for herself. "I went to school for [sports commentary]," she tells Elite Daily, noting that her love of sports comes from her father, a diehard fan of the Green Bay Packers, the Boston Red Sox, and the Celtics.
In addition to joining her university's student-run station as a sportscaster, Andrews tells me she also spent her college summers interning at her dad's TV station in Tampa Bay. Like many college graduates these days, however, the DWTS co-host returned home after college without a job — that is, until she applied and landed a job reporting from the sidelines of the NHL.
"From there, Turner Broadcasting saw me and they signed me for a couple years, and from there I went to ESPN, and now with Fox," Andrews explains. "My career took off fast, but it all started with my hometown hockey team, and I'm grateful for it."
There's no doubt that Andrews is incredibly successful, but for the record, she wasn't handed any of these opportunities — she worked her ass off to get them. When asked what her number one piece of advice is for women who are interested in breaking into sports — or any industry, really — she tells me it's all about working hard, doing your homework, and always being prepared. "Right now, basically from August through January, I don't have anything else on [my TV] except sports," Andrews tells Elite Daily. "Even in my Dancing With The Stars dressing room, I have sports on 24/7 because I don't want to miss anything. You have to prepare, and you have to prepare more than you already are."
She also tells me it's important to consider the fact that social media is now a huge factor, meaning everyone has something to say, and a platform to say it on. In this day and age especially, Andrews says, you have to develop a thick skin in order to desensitize yourself to criticism. "Sometimes I like to go down a rabbit hole and see who these people are [making comments on social media]. But, you put them in a stadium with 100,000 people and a microphone, and they would not be able to do it," the sideline reporter says. She also admits that, to this day, she still struggles from time to time with not taking whatever internet trolls are saying to heart, though she adds that the best thing you can do is take it all with a grain of salt, and keep working your butt off.
Above all else, Andrews tells me she wants women to try their best not to care what people think when chasing their dreams. Obviously this is easier said than done, but as Andrews tells me, "there is always a critic," meaning you'll only exhaust yourself trying to keep up with them all.
So when those voices try to tear you down, it's up to you to build yourself back up. At the end of the day, only you know how hard you work, and what your skills are worth. Have faith in yourself, and others will, too. As for those who don't, pay no mind.