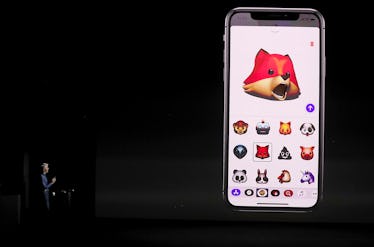 Emojis & Animojis Definitely Aren't The Same — Here's Why They're So Different
Justin Sullivan/Getty Images News/Getty Images
Apple is taking our methods of communication to new levels, all thanks to the iPhone X's most addicting feature: Animojis. We were once delighted with a slew of emojis, but now, those animated objects are alive (hence the name "Animojis"). With the release of the iPhone X and this coveted new capability, here's lowdown you need on Apple's Emojis vs. Animojis.
For one, emojis have made quite the statement in pop culture. The sweet dog, the funny smiley faces, an airplane taking off — anything you could possibly imagine has taken on a cartoon form thanks to emojis. Naturally, they have become a staple in our everyday conversations.
Looking forward to pizza for dinner? No need to spell it out — just add the icon. Are you cool with those after-work plans? Send a quick thumbs up or thumbs down. These sweet icons have become a fun way to get your point across rather than simply spelling it out. After all, who doesn't like lively hearts and winking smileys?
You are certainly no stranger to this wonderful world of emojis. They're available on iPhone, iPads, the iPod Touch, and on Macs while using iMessenger. Emojis are standard cartoon figures available throughout iOS, Android, Windows, and OS X. They're certainly sweet, but now that Animojis have surfaced and they can mimic your expressions, well, emojis have taken a back seat for the moment.
First thing's first, Animojis would not exist if it weren't for the iPhone X's Face ID — a revolutionary new way to gain access into your device. This system was implemented to do away with the home button of devices past. Thanks to Face ID, all you need to do is sit there and look pretty, and the phone will unlock based on appearances (though it might be a little difficult for those who have an identical twin). You no longer have to plug in a code.
But let's be honest, Face ID was created more importantly to bring cute animals to life. It allows you to take your favorite emoji and let it mimic your movements. You heard that correctly: You can be one with the bunny, pup, panda, and even the poop.
However, prepare for a slight case of FOMO: You can only send Animojis on the iPhone X.
I know, try not to sulk — it's a difficult time for all of us. For those lucky customers who scored one of the fancy new devices, here's how to get a laughing fox or crying cat. Go into your messages and decide who is in need of said laughing fox and/or crying cat. After you've chosen a text message strand, select "Message Apps," which is a small blue icon that looks like an "A." You can find it right next to your camera, which will be to the left of you iMessage box. Next, select the Animoji icon. Then the time arrives when you need to pick your favorite animal, record your expressions for 10 seconds, and send the magic on its way.
For those who don't have access to the iPhone X — fear not, you can get in on the Animoji action, but there's a catch.
You are able to share Animojis via iMessage between any iOS and Mac devices, so don't let anyone rub their smiling pig in your face. (In other other words, if you have an iPhone 8, 7, etc. you can receive Animojis, but sadly you cannot make or send them.) If you have an iPhone X, you can also send Animojis to your friends who have phones that aren't running on iOS or Mac via MMS. You can even send your Animoji as a .MOV file if you save your Animoji to your camera roll.
We're figuring out all the loopholes so you don't have to suffer. You can also send your Animoji as a sticker. To do so, you must follow the same steps you took when accessing the Animojis in the Message apps. Think of a funny face, hold down your Animoji of choice, and drag it to the text bubble once its locked. Then voila!
There you have it folks: a complete rundown. Let's get texting: There's a winking bunny I need to send to someone.
Check out the entire Gen Why series and other videos on Facebook and the Bustle app across Apple TV, Roku, and Amazon Fire TV.