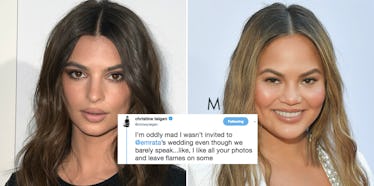 Emily Ratajkowski Had The Best Response To Chrissy Teigen's Tweet About Her Wedding
Kevin Winter/Neilson Barnard/Getty Images/Twitter
Chrissy Teigen was not pleased to learn she wasn't invited to Emily Ratajkowski's surprise February wedding to film producer Sebastian Bear-McClard. The pair had only been dating for a few weeks when they decided to tie the knot on Feb. 23, 2018. She announced the surprise marriage on her Instagram story and later revealed that only 10 people were there, but it was too late. The damage had already been done, and Teigen was upset! (Jokingly, obvi.) In an interview on Live With Kelly and Ryan on April 18, Emily Ratajkowski responded to Chrissy Teigen's tweet about her wedding and it's everything.
When news of Ratajkowski and Bear-McClard's wedding broke on Feb. 23, Teigen, in classic Teigen form, tweeted, "I'm oddly mad I wasn't invited to @emrata's wedding even though we barely speak...like, I like all your photos and leave flames on some." Yeah, Emily! She puts flames on some! She followed that tweet up with another tweet that said, "@emrata ALSO, CONGRATS!!" with not one, not two, but 14 flame emojis. That is love right there. Ratajkowski never responded to the tweet until now.
She said on Live with Kelly and Ryan,
I actually felt bad. I was like 'Oh my god, she's calling me out.' But you know, a lot of people weren't there. I do [know Teigen], I do. You know, I don't know that she would've been the first person in a ten-person wedding that I would've invited but I totally get it. She's like number 12. I saw her yesterday.
She added that had she and her husband decided to have 15 people there instead of 10, "She would've been [invited]—her and John [Legend], and her baby."
Teigen posted these classic tweets on Feb. 23, 2018.
One fan replied to her tweet joking, "What more could you do?" Teigen responded, "Honestly I don't know," she's right. How can a person express their love and admiration for another person more clearly than through commenting flame emojis on Instagram?! I, for one, am shocked Teigen, John Legend, and Luna weren't invited. Does Luna know?! Is she OK? I don't want her feeling rejected. These are the burning questions that need answers. (Get it? Burning? 'Cause flame emojis? OK, bye.)
Ratajkowski, who can be seen in Amy Schumer's new movie I Feel Pretty, talked about her and her husband's choice to have a small ceremony at City Hall. "You know, you always need one witness," she said, "but I just couldn't choose one person, so we ended up bringing four to five friends each, a couple dogs — we were quite a little crew. Everyone wore a suit, like some kind of [take on suit]."
She then revealed to Kelly Ripa and Ryan Seacrest that Josh Ostrovsky, aka the man behind The Fat Jew Instagram account, was at the wedding because he's close with Bear-McClard. "His best friend is The Fat Jew on Instagram," Ratajkowski said, "so he wore a sweatsuit. It was his own interpretation, so I'm not sure it was elegant, but it was something." The Fat Jew wearing a sweatsuit at the impromptu marriage of Emily Ratajkowski and Sebastian Bear-McClard surrounded by dogs is an image I can very easily conjure in my mind.
If you have no idea who Sebastian Bear-McClard is, don't worry. I didn't either before he married Emily Ratajkwoski, whom I also barely know anything about. According to his IMDb page, he's a 31-year-old film producer (Ratajkowski is 26) whose recent work includes Good Time starring Robert Pattinson. His IMDb page says he's also worked on Heaven Knows What released in 2014 and Still Life released in 2006, and Chrissy Teigen wasn't cast in any of them. Honestly, the gaul of this couple to exclude Chrissy Teigen to such great lengths. They will be hearing about this on Twitter.