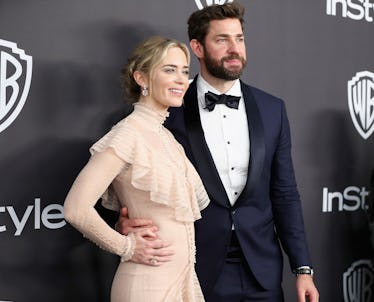 Emily Blunt & John Krasinski's Body Language At The 2019 Golden Globes Was Incredibly Cute
Rich Fury/Getty Images Entertainment/Getty Images
If there's one Hollywood couple that truly seems to have it all, it's Emily Blunt and John Krasinski. Let's be honest: The two are both hugely successful, ridiculously attractive, and seriously charming. So, when they hit the red carpet for the 2019 Golden Globes on Sun, Jan. 6, it's no surprise they looked flawless and totally connected. But, what does Emily Blunt and John Krasinski's body language at the 2019 Golden Globes actually say about them as a couple? Well, according to experts, these two don't just look in love, they really, really are. What else is new?
Blunt and Krasinski attended the Golden Globes together, and while walking the red carpet, they posed for several photos, looking more and more stunning as the night went on. Krasinski and Blunt are the perfect example of relationship goals after having been together for ten years. When they first met in 2008, it was basically love at first sight — for Krasinski at least. Speaking to Ellen DeGeneres back in 2011, he explained how he fell so hard. "I met her and I was so nervous," Krasinski said. "I was like, 'Oh god, I think I'm going to fall in love with her.'" And he sure did. Blunt, for her part, thinks about their first meeting with plenty of fondness too. In an exclusive interview with The Hollywood Reporter, she shied away from talking about the details of their first date, saying, "It's so precious, I don't want to talk about it. Is that all right?"
These two fell in love hard and fast. They've come so far since they first met, even starring together in A Quiet Place, one of 2018's biggest blockbuster hits (which was directed by Krasinski, too). After the Golden Globes, I asked two body language experts to break down whether or not their red carpet body language reflected the love they seem to have.
Spoiler alert: It did.