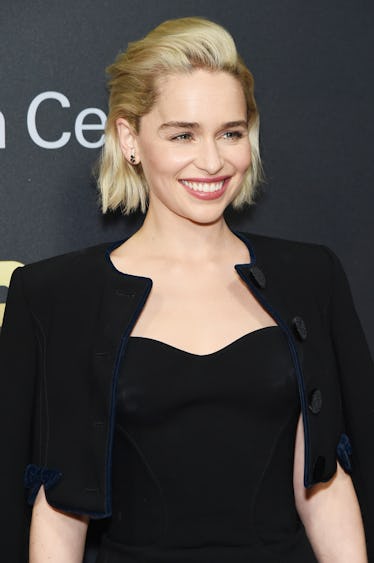 Emilia Clarke Rocked A New Hairstyle At The Oscars & It's So Different From The Khaleesi We Know
Mike Coppola/Getty Images Entertainment/Getty Images
The Mother of Dragons has officially arrived at this evening's red carpet, and she looks nothing like her Game of Thrones character — although her entrance was still just as striking. Emilia Clarke's 2019 Oscars look features a stunning brunette hair color and short length. Her amazing hairstyle is paired with a gorgeous lavender, shimmering custom gown by Balmain, according to E! News.
It was only about 10 days ago when we saw Clarke post on her Instagram about her partnership with Omaze, rocking curly blonde hair that almost reached her shoulders. Today, however, Clarke posted a stunning selfie with her new brunette style, and captioned the picture with, "Blondes have more fun eh!? Well I will see about that this fine #oscars2019 evening…. let the good times roll."
Clarke's hair is naturally brunette, but she decided to dye it blonde in 2017 in honor of the final season of Game of Thrones. Let's be honest, though: Clarke pulls off both gorgeous hair colors in the most amazing way. I'd have a hard time deciding which one I wanted to keep!
Clarke has never been one to shy away from a hair transformation, and she's successfully rocked icy blonde, light brunette, rich chocolate, and even a dark red shade.
Her latest look couldn't be more chic.
Clarke's new hairdo was a surprising transition, and I enjoyed every moment of her entrance to this evening's event. But, her pastel custom-made Balmain gown deserves our undivided attention as well, because it's completely dazzling. The perfect shade of a pinkish lavender, with a metallic tone, has me completely ready for all things spring.
The strapless dress featured iridescent sequins throughout, truly making a sparkling statement. Clarke also rocked diamond-drop earrings and lavender shoes. She pulled everything together for an elegant, classy look. I think it's the kind of statement most of us get excited to see when we watch the red carpet unfold.
Clarke also included some funny hashtags in her Instagram selfie about her dress, adding #ilegitimatelycantpeeinthisdress and #butwhocaresitsthegoddamnoscars.
Clarke's gorgeous makeup was done by Jillian Dempsey using Dolce & Gabbana makeup products, according to Dempsey's Instagram post.
According to another Instagram post, Dempsey first used her Gold Sculpting Bar ($195, jilliandempsey.com) to define and sculpt Clarke's face. Clarke rocked her always-full brows and beautiful, fluttery eyelashes, too. After seeing the D&G Beauty products on Jillian Demsey's Instagram, I might have to get my hands on some of the palettes and products myself — they are covered in roses and are perfect to show off on my vanity.
Last, but not least, Clarke's nails were done by celebrity nail artist Jenna Hipp, using a Dolce & Gabbana The Nail Lacquer in Rose Petal, a subtle shade that doesn't take away from the rest of her look. Hipp posted a few pics of the getting ready process on her Instagram story.
Although Clarke's time as the Mother of Dragons has now ended, I know we will be seeing her on the red carpet for many years to come. Clarke will be presenting an award tonight on stage, but I really hope she'll be accepting an Oscar soon enough.